Sitting -- at a desk, on the couch -- does slow metabolism and make it easier for a person to gain weight. The good news is, it doesn't take much extra movement to boost a sluggish metabolism. In this video Dr. Robin Miller shares some easy, everyday activities that can counter the metabolism-slowing effects of sitting.
Continue Learning about Obesity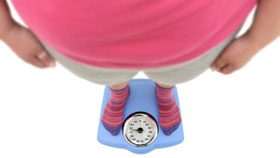 If you have too much body fat, you are obese, just like over 70 million other Americans. It happens because you eat more calories than you use, and your body converts the excess to fat. There are lots of reasons that this can happ...
en. Our lifestyle may lack exercise, we are given portions that are too big and too caloric when we eat, and some of us are just more efficient genetically at converting food into fat.
More