Start Running Today with These 7 Tips
Almost anyone can start a running routine. Use these helpful tips to get out the door and start jogging.
Medically reviewed in March 2022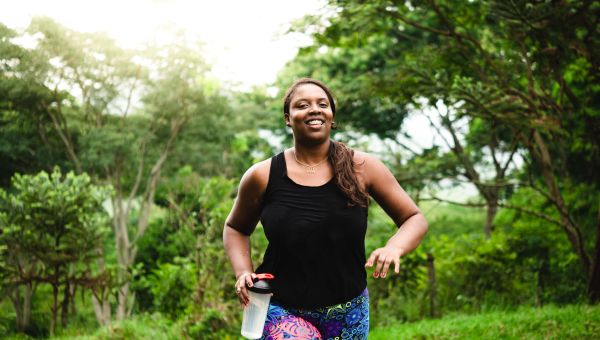 1 / 8
Running is a great form of cardiovascular exercise that is appropriate for many people, even if you're new to the activity. All you need are sweat-wicking clothing, a pair of shoes and a safe route. However, many aspiring runners are often confused about how to begin a routine. The good news is that you don't have to race a marathon or move at an all-out sprint to see benefits to your health.
Curious about getting into running or jogging? We spoke with Michael Garrison, PhD from Hawaii Running Lab and Ron Alford, running coach and president of the Mid Pacific Road Runners Club, for insights on getting started. As with any new form of exercise though, be sure to talk to your healthcare provider and make sure that you are healthy enough to engage in physical activity. 2 / 8
Make a Commitment to Try
Your couch is calling and your bed looks cozy. Sometimes just leaving the house is the hardest part of exercise. But not every run has to be far or long to benefit your health.
A November 2019 meta-analysis published in the British Journal of Sports Medicine found that any amount of running was‌ ‌associated‌ ‌with‌ ‌a‌ ‌27 percent ‌lower‌ ‌risk‌ ‌of‌ ‌death‌ ‌from‌ ‌all‌ ‌causes‌ ‌for‌ ‌both‌ men and women when‌ ‌compared‌ ‌with‌ ‌no‌ ‌running.‌ Researchers also concluded that running‌ ‌was‌ ‌associated‌ ‌with‌ ‌a‌ ‌30 percent‌ ‌lower‌ ‌risk‌ ‌of‌ ‌death‌ ‌from‌ ‌cardiovascular‌ ‌disease‌ ‌and‌ ‌a‌ ‌23 percent‌ ‌lower‌ ‌risk‌ ‌of‌ ‌death‌ ‌from‌ ‌cancer.‌ These health benefits extended to people running less than once per week or less than 50 minutes each week. The findings were based on 14 studies involving 232,149 participants.
Garrison agrees that not every run has to be long, especially when you are new to running. "You have to get out the door to go run. Commit to 10 to 15 minutes outside," he says.
Keep in mind that the U.S. Department of Health and Human Services (DHHS) recommends at least 150 minutes of moderate-intensity aerobic exercise (such as brisk walking), or 75 minutes of vigorous-intensity aerobic exercise (like running) every week—but every little bit of movement can count towards your weekly goal. 3 / 8
Pick a Goal
One of the best ways to stick to a running plan is to work towards a goal. You can sign up for races of varying distance, whether it's a 5K, 10K, half marathon or other unique event.
General goals such as, "I want to improve my fitness," or "I'd like to eventually run a 5K" are too vague. Alford stresses that having a specific goal, like a particular race event, works best. "I'm going to run a 5K in three months is very specific. You put down your money, you've made a commitment, you're going to get out there and trying to do it." 4 / 8
Start Slow
You've probably seen runners moving impossibly fast, but it absolutely does not have to be a speedy endeavor.
"You can go very, very, very slow and still get the health benefits out of running and still be running," explains Alford. "The difference between walking and running is that in walking, you always have a foot in contact with the ground." As long as you are momentarily losing contact with the ground, that's running.
Starting slow isn't just about speed though. Many beginners run to the point of exhaustion before stopping. This can increase the chances of injury while generally feeling unpleasant.
Instead, new runners should start with run/walk intervals to build endurance. Alford gives the following example: "Depending on their fitness level, they might start with say, two minutes of slow jogging and four minutes of walking, two minutes of slow jogging, four minutes of walking and so on and cycle until say, they've done 30- or 40-minutes worth of that and then that's their workout for the day."
Over time, new runners will decrease the amount of time walking in each workout and increase the amount of running. "Depending on where you start, after 10 or 12 weeks, there isn't any walking," says Alford. 5 / 8
Make a Plan
"A hard thing to get across to people are that they need to understand that consistency matters," says Garrison. Running once every few weeks isn't going to help build endurance. That's why both Garrison and Alford recommend sticking to a running schedule.
Most running plans are divided into weekly chunks that either give a distance or amount of time to exercise on different days. Each week in a schedule builds off the previous week for increased performance over time.
"If you're out there three or four times during a week, then you are building on each and every workout, so that you are getting that level of conditioning up and up," says Alford.
There are many free online running plans for beginners. If you need more guidance, look into a local training program or considering hiring a coach. 6 / 8
Find a Partner
Running isn't exactly a team sport. Many people prefer to jog solo. But finding a running group or partner can increase your likelihood of sticking with it. "If you have a group or a partner, you're more likely to get out the door because they're waiting on you," explains Alford.
Check with your local running store to see if they have group training runs. You can also find teams and informal meet ups through social media. If you don't have a training partner or prefer solitude on your runs, stay motivated by talking with a friend or loved one about your progress. "Just having that accountability partner makes it fun and also kind of helps push you out the door," says Garrison 7 / 8
Run for a Cause
There are a number of organizations that use running as a way to fundraise towards worthy causes. Many nonprofits organize charity runs as a major source of income annually. Other groups provide coaching services and ask participants to fundraise a specific amount prior to a race. Some families also run as a memorial to loved ones who have passed. If there is something that you are passionate about, chances are there is a way to support it through running.
Running for a cause outside of yourself is a surefire way to stick with it. "You're running for someone who has cancer, you're running for a sick relative, in memory of a relative that you loved or cared about and so on," explains Alford. "That's an extremely powerful motivation." 8 / 8
STAY SAFE ON THE ROAD
Pedestrian safety is key whenever you're exercising outside. Here are a few pointers to stay safe while you run:
Avoid wearing headphones so that you can hear traffic, cyclists and other pedestrians.
Wear reflective clothing in low light so that vehicles can spot you. Consider wearing a head lamp if it's very dark, before sunrise and after sunset.
Tell someone when and where you will be running.
Carry a cell phone, cash and ID in case of emergency.
Always look both ways before crossing a street. Cross with walk signals or at a cross walk.
Be aware of your surroundings. Do not assume that cars or other pedestrians can see you.
Sources
Pedisic Z, Shrestha N, Kovalchik S, et al. Is running associated with a lower risk of all-cause, cardiovascular and cancer mortality, and is the more the better? A systematic review and meta-analysis British Journal of Sports Medicine Published Online First: 04 November 2019. doi: 10.1136/bjsports-2018-100493
The US Department of Health and Human Services. Physical Activity Guidelines for Americans, 2nd Edition Replay Slideshow