It can be difficult to manage daily inflammation because it can come from a variety of sources. You can be inflamed by an overuse injury. In that case, using an anti-inflammatory drug may help, but it is most important to avoid overuse. Autoimmune diseases such as rheumatoid arthritis can also cause inflammation. If this is the case, you should ask your rheumatologist about a plan to reduce the inflammation.
Inflammation, especially a severe case, can have a significant effect on your daily life, but there are ways to manage it. Pain can be treated with prescription medications or over-the-counter pain killers like aspirin. Severe cases of inflammation that affect specific parts of your body can be treated regularly with prescription medication. Eating well and getting enough rest and exercise may also help you feel better on a regular basis.
Continue Learning about Inflammation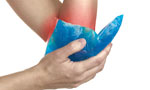 Inflammation is your body's natural defense against dangers like bacteria, viruses, irritants, toxins and physical trauma. You usually feel inflammation as swelling, redness, heat and pain. When inflammation runs rampant, it can d...
isrupt your immune system and lead to a variety of chronic diseases. Learn more about inflammation from our experts.
More