Inflammation can have many negative effects on the body; from heart disease, to trauma, to autoimmune disorders, it can be very destructive. Watch women's health specialist Donnica Moore, MD, explain the many ways that inflammation can be damaging.
Here's how it works: Inflammation is the body's immune system response to fight infections and other outside "invaders." White blood cells, part of the body's defense, create proteins and other compounds to eliminate infections and protect the body. In addition, when the body's immune system detects foreign proteins, the immune system can react to eliminate that "invader." Normally only foreign bacteria, viruses, and abnormal cells are the targets for this immune reaction.
But sometimes, the immune system creates inflammation that attacks the body's own tissues. In other words, the body turns against itself, resulting in serious illness, such as arthritis with joint pain and swelling and inflammation in other areas including the kidneys, heart, skin, and other organs.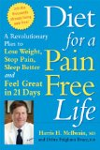 Continue Learning about Inflammation