Nondrug treatments are among the most effective therapies for fibromyalgia, and often several are combined -- you might find that you get the best results by using two or three nondrug therapies, or possibly a combination of several nondrug treatments, a prescription medication, and a nutritional supplement.
Nondrug therapies don't involve taking medication; they change the physiology of brain chemicals and target the muscles, joints, and soft tissues. The changes in brain chemicals produced by using nondrug methods such as relaxation techniques are the same type of changes that you might achieve by taking pain-relieving drugs. The most obvious advantage is that you don't have to worry about medication side effects.
Nondrug treatments can be divided into two categories:
Physical treatments such as aerobic exercise.
Behavioral treatments such as cognitive behavioral therapy.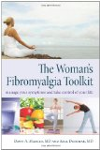 Continue Learning about Alternative Treatments For Fibromyalgia