There are three primary factors that contribute to feeling tired during pregnancy. In the early half of pregnancy the effects of hormone changes and the physiologic changes of pregnancy are the primary contributors. In the second half of pregnancy, the increase weight of the growing fetus places addition demands on the body for energy.
Most women feel tired at some time in pregnancy. The first trimester, with its wildly changing hormone levels and huge physiologic changes, sends many women to the "nap couch" and most women to bed early at night. This fatigue often returns - but not usually so dramatically - in the third trimester, as your baby grows rapidly and your own body tries to keep up. The best thing you can do for yourself if you are feeling tired is to go with it. Ease up on yourself. Let go of some responsibilities for a while. Ask for some help from friends or family.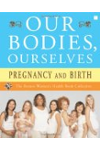 More About this Book
Our Bodies, Ourselves: Pregnancy and Birth
ALL THE INFORMATION YOU NEED TO MAKE WISE DECISIONS ABOUT YOUR PREGNANCY AND THE BIRTH OF YOUR CHILD -- FROM THE EDITORS OF THE CLASSIC "BIBLE OF WOMEN'S HEALTH" Pregnancy and birth are as ordinary...
Continue Learning about Pregnancy, Fertility and Childbirth