9 Healthy Snacks You Can Prep in 5 Minutes or Less
Swap snacks from the vending machine for these healthy, energy-filled options.
Medically reviewed in January 2020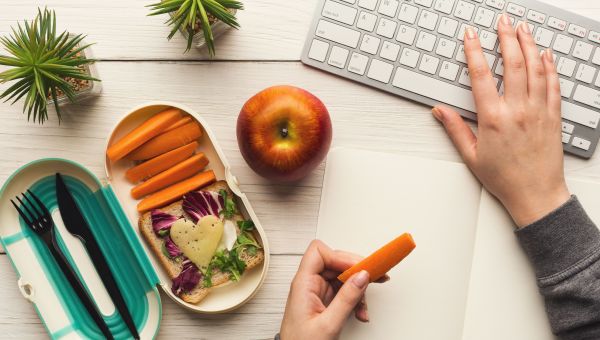 1 / 10
Healthy eating, which includes a diet rich in fruits, vegetables, whole grains, lean protein and heart-healthy fats, can help stave off weight gain, protect your heart from disease and promote healthy blood pressure. But when you're crunched for time, a trip to the vending machine may seem like the only option to prevent your hunger from turning to "hanger."
People in fast-paced professions may find it especially difficult to grab a nutritious bite to eat on the job. Packing a 5-minute snack is the best way to forgo full-fat and sugar-rich eats sold in convenience stores, workplace cafeterias and vending machines—and avoid becoming a hunger monster.
Energy-boosting foods like nuts, fruit and soybeans can be prepped in no time and transported in your purse, lunch tote or knapsack. The wholesome snack possibilities are seemingly endless, and totally customizable, but here are just nine of our favorites.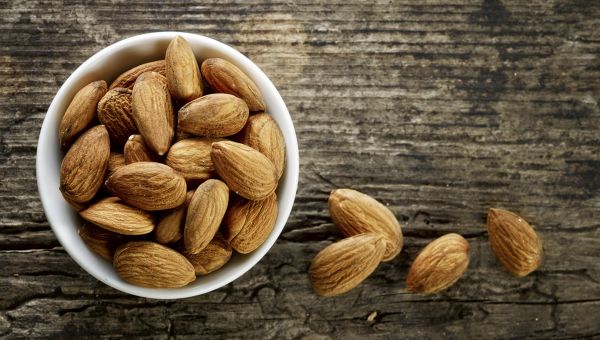 2 / 10
A handful of nuts
Nuts are a portable powerhouse—they're high in nutrition, readily available and fill you up. Nuts have another advantage: they can help lower your LDL cholesterol levels. Low-density lipoproteins or "bad" cholesterol can build up in your arteries, increasing the risk of stroke and heart attack.
Pack your favorite nuts, like almonds, pistachios or cashews, ahead of the time in small plastic or glass containers or Ziploc bags. Be careful to not overdo it, though; nuts are high in calories. Keep your portion to about an ounce: 23 almonds, 18 cashews or 49 pistachios.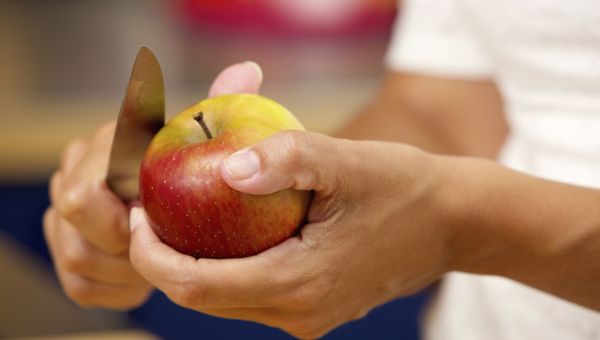 3 / 10
In-season fruit
Fruit is the perfect grab-and-go snack. Whole fruits, like apples, bananas and pears, are cholesterol-free, low in calories, loaded with vitamins and nutrients and can be tossed directly into your bag without any prep. Fruits are also chock-full of dietary fiber, which can help lower cholesterol and reduce heart disease risk.
If you forget your fruit at home, your sweet snack can be replaced easily and inexpensively. Bananas or apples go for less than a dollar a piece and are often available in cafeterias and convenience stores. For the best flavor and most bang for your buck, reach for in-season produce. 4 / 10
Creamy cottage cheese
Cottage cheese: You either love it or hate it. This might not be the right snack for everyone's palate, but low-fat cottage cheese topped with fruit slices or cinnamon may be a delicious option for some grumbling tummies. A one-cup serving of this low-fat snack, which contains 25 grams of protein, will keep you satiated and full of energy.
There's no limit on the number of tasty toppings, but fresh pineapple chunks, strawberry slices and cantaloupe pieces are some sweet options.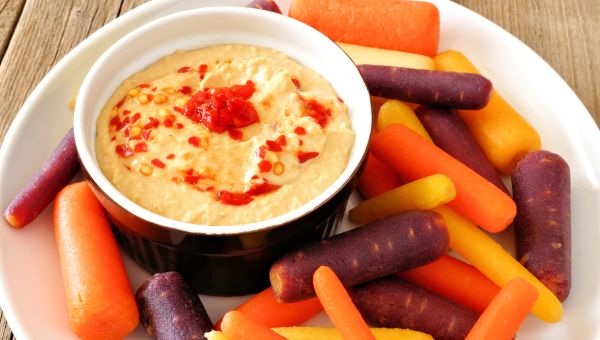 5 / 10
Veggie strips and hummus
This combination of protein and fiber will boost your energy levels and keep you full until your next proper meal. And don't think this has to be complicated: You can slice up a cucumber in minutes, or open a bag of baby carrots in seconds.
If you have time, cut up veggies in bulk and place in containers or baggies to bring in throughout the week. Vary vegetables to avoid monotony—give zucchini sticks, bell pepper slices and crisp radish pieces a try. 6 / 10
Hard-boiled eggs
This one requires some at-home prep. In just 15 minutes a week, you can prepare hard boiled eggs for several days. This protein-rich snack is loaded with monounsaturated and polyunsaturated fats, both of which are beneficial for heart health. These portable bites take just 30 seconds to peel, so they make a smart choice any time hunger strikes. 7 / 10
Plain, nonfat Greek yogurt
Stash a supply of single-serve Greek yogurt containers in your fridge for a bite that requires absolutely no prep. Compared to ordinary yogurt, Greek yogurt has twice the protein and contains healthy probiotics. It's thicker, too, so it takes longer to eat. This can help you eat less, and stop when you're full.
Fancy up your snack by adding a sprinkle of unsweetened coconut flakes, no-sugar-added granola or a handful of fresh berries. 8 / 10
A morsel of dark chocolate
Occasional indulgences are OK, and even encouraged by some nutritionists. Turn to dark chocolate when you're looking to splurge. This rich candy contains antioxidants, like flavanols, that help ward off damage from free radicals and improve vascular health. Don't munch more than one or two squares per day, though. Beware of noshing too late at night too; chocolate contains caffeine, which could make falling asleep a challenge.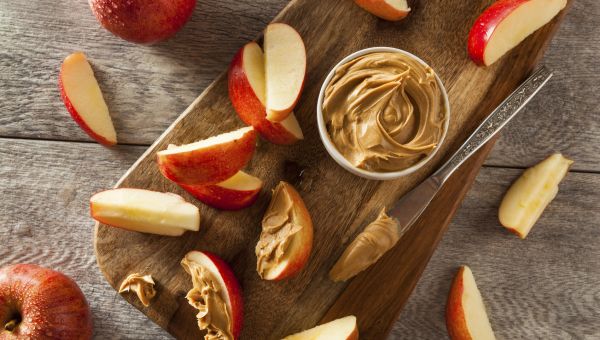 9 / 10
Apple or celery with nut butter
Fruits, vegetables and nuts make standout snacks on their own—just imagine what combining them could do. Most produce is packed with tons of valuable minerals and vitamins, and nuts and nut butters offer energy-boosting proteins and healthy fats. For an energizing snack in seconds, slice up an apple and pair it with a spoonful of cashew butter. Or make like a little kid after school, and have peanut-butter-stuffed celery stalks. When scanning the store shelves for the perfect nut blend, choose a container without added sugars and other additives. 10 / 10
Edamame
Skip the chips and instead nuke this crisp, protein-packed snack. Place three-quarters of a cup of edamame in a bowl, add a splash of water and microwave for 3 to 5 minutes. Drain the water, sprinkle with a bit of salt and get to snacking. These bite-sized nibbles are full of fiber and protein, so they'll keep your belly full and energy levels up. Replay Slideshow