6 Creative Ways to Enjoy Sweet Potatoes
From pizza to smoothies, it's easy to add this versatile veggie to your diet.
Updated on September 7, 2022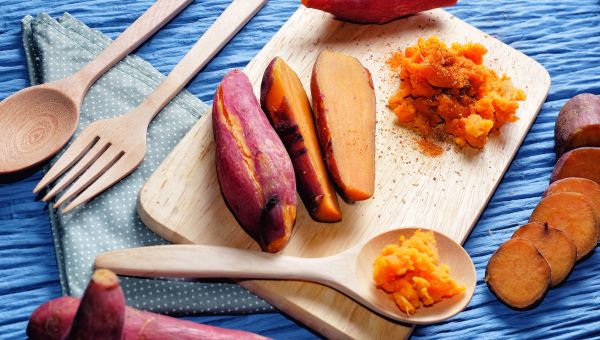 1 / 7
One of the unsung heroes of autumn produce is the sweet potato, a starchy root vegetable with a sweet orange flesh. These spuds are loaded with fiber, which promotes healthy digestion. They also boast beta-carotene, a precursor to vitamin A that supports the immune system and enhances eye health.
New York City-based nutritionist Amy Gorin, MS, RDN, owner of Plant Based with Amy, agrees: Sweet potatoes are a must when it comes to fall. But instead of enjoying them with excess added sugar, Gorin recommends incorporating the veggie into your diet in a more nutritious way. "Sweet potatoes offer sweetness of their own, so I'd try to cut down on added sugar when you're using them in a dessert recipe, for example," she says
The best thing about eating sweet potato in the fall is that eating "in season" is often cheaper and the foods are fresher. Plus, if you're buying local in-season produce, it's likely the shipping time is going to be quicker. As a result, there's less artificial ripening and more natural nutrients in these foods when they get to you.
Read on for simple ways to eat more sweet potatoes this fall—or any season. 2 / 7
Toss them in salads
Most salads are already healthy, particularly if you load them with ingredients like dark leafy greens, tomatoes, or nuts. But why not add roasted sweet potatoes for an extra nutritional punch? They'll add some texture to your bowl, too.
Roast cubed sweet potatoes on a sheet pan on Sunday evening, then store them in the fridge for up to four days. To prepare, cut the potatoes into cubes, toss with avocado or olive oil, salt and pepper, onion powder (or any of your other favorite spices), and roast for 30 minutes at 425° F. Mix your spuds with the rest of the salad and top with your dressing of choice.
For a light dressing you can whip up at home, try combining fresh lemon juice, Dijon mustard, olive oil, and salt and pepper. 3 / 7
Snack on baked fries
Baked sweet potato fries are a much healthier alternative to those you might find at fast-food chains. At-home baking allows you to choose better-for-you oils or cooking sprays—or skip the oil completely—which can help you cut calories and avoid iffy ingredients like saturated fat and extra chemicals.
Cut the potatoes into fry-shaped pieces (leaving skin on or peeling off). For a sweet flavor, sprinkle cinnamon on top. For something more savory, use a small amount sea salt, pepper, and chili powder. Want more flavor? Try adding garlic and parmesan. Bake your fries for 20 to 30 minutes at 425° F or until desired crispiness. 4 / 7
Blend them into smoothies
Move over, spinach—sweet potatoes are another great veggie to throw in the blender. Not only do they add a variety of nutrients, but they also make for a thicker, creamier, delicious treat.
Chop and puree 1/2 cup of sweet potatoes for the base. Add 1 cup of light coconut or almond milk, a splash of maple syrup, a small scoop of vanilla protein powder (if desired), and a whole cubed banana. Blend until smooth, then enjoy. 5 / 7
Kick your pizza up a notch
Fall is the perfect time to experiment with seasonal pizza toppings. Gorin recommends using sweet potato puree in place of marinara for a slightly sweeter take on pizza. New flavors and more nutritional value: What's not to love? Her vegetarian cauliflower flatbread pizza is a flavorful one to try:
Ingredients:
Cooking spray
1/3 small head cauliflower, de-stemmed and coarsely chopped
1 premade pizza flatbread
2/3 cup canned sweet potato puree
1/4 teaspoon ground chipotle
1/2 shallot, thinly sliced
1 1/4 ounces Fontina cheese, shredded
1 tablespoon fresh thyme
Freshly ground black pepper to taste
Directions:
Preheat oven to 425° F. Coat a cooking sheet with oil, place cauliflower pieces on the sheet and coat it with spray oil again. Roast 20 minutes, turning once. Remove and place in a small bowl. Re-coat cookie sheet with cooking spray, lower oven temperature to 375° F. Place pizza crust on sheet, and bake for 2 minutes. Combine sweet potato puree and chipotle in a small bowl. Remove pizza crust from oven and spread the sweet potato mixture. Top with cheese, cauliflower, shallot, thyme, and a little black pepper. Place back in the oven for 4 additional minutes. Cut and serve. 6 / 7
Make baby food or puree
If you're interested in making homemade purees and food for your little one, throw in some sweet potatoes. The vitamins, minerals, and antioxidants in sweet potatoes may help support their young immune system.
Preheat the oven to 400° F and bake two whole potatoes until tender (usually about an hour). As they cool, steam a few fresh peaches or apples (or both) until soft. Peel cooled potatoes and add all produce to a blender or food processor and blend until smooth. Sprinkle in nutmeg for extra flavor, and add water for desired consistency, then blend again.
Want to store some for later? Scoop it into an airtight container and store in the freezer for up to a month. Heat it in the microwave for 30 seconds to a minute when you're ready to serve. Just be sure to let it cool before serving to your child. 7 / 7
Whip up some hummus
It's not uncommon to see black beans, avocados, lentils, or pumpkin added to supermarket hummus varieties. So why not experiment with your own sweet potato version? When using sweet potatoes, your hummus is sure to be heartier. And don't let "homemade hummus" intimidate you; it only takes a few ingredients to whip up.
Roast two sweet potatoes until the insides are soft. Let them cool and combine the soft insides with 2 tablespoons of olive oil, one can of chickpeas (drained and rinsed), 2 tablespoons of tahini, and lemon or lime juice in a blender. Sprinkle in sea salt, pepper and any other spices, such as smoked paprika, garlic chili powder, or cumin, for flavor. Blend until smooth, then serve with sliced veggies. Replay Slideshow