5 Inspired Ways to Upgrade Your Morning Oatmeal
Out with the old, boring oats. In with the season's most vibrant flavors.
Medically reviewed in February 2022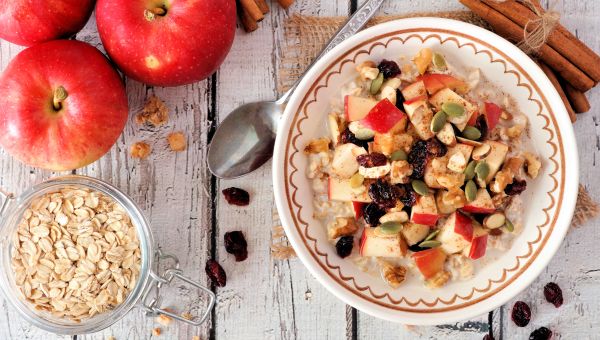 1 / 7
Smoothies just won't cut it on chilly mornings. Oatmeal to the rescue! Whether you're looking for the best full-flavored oats, with ingredients like pumpkin, apple, pecan and maple syrup, or you want some new ways to prepare a traditional favorite, we have the recipes for you. They're quick and easy, too!
Oats have been getting a lot of positive press lately for both their health benefits and versatility. To get new and tasty takes on a morning classic, we spoke with bloggers Brittany Mullins, a health coach and trainer who runs Eating Bird Food from Richmond, Virginia and Justin McChesney-Wachs, the chef and photographer behind Salt Pepper Skillet from San Diego, California. 2 / 7
The big benefits of oatmeal
Hearty oats are a meal McChesney-Wachs and his whole family enjoy. He likes to get creative with his toppings, adding caramelized apples, raisins, chopped pecans and brown sugar to his steel-cut Irish oats. These additions offer their own nutrients, too!
"It's filling enough to get me to lunch and gives me energy without being too heavy or sweet," he says.
Low-carb diets are on trend, explains Mullins, "but I'm still a huge oatmeal fan." Oats are a whole grain, they're low in saturated fat and cholesterol, naturally gluten-free and full of fiber and nutrients, she adds.
Fiber in whole grains may help aid digestion and boost weight loss, research suggests. The soluble fiber can also help lower cholesterol levels and reduce the risk of heart disease. What's not to love? 3 / 7
Maple pecan baked oatmeal
Mullins was a lifelong stove-top oatmeal maker, until she tried this baked variety, which offers a crunchy top and easy-to-heat leftovers. You can bake a batch at the beginning of the week and enjoy on busy mornings.
The maple and pecan combo reminds Mullins of instant oatmeal packets from childhood, but "this version is a bit healthier and more filling," she says. The recipe combines whole-grain rolled oats, pure maple syrup and healthy fat from pecans. Unsaturated fats, found in nuts, can help lower high cholesterol and reduce heart disease risk.
The ingredients:
Cooking spray
2 cups old-fashioned oats
½ cup pecans, chopped
1 teaspoon aluminum-free baking powder
1 ½ teaspoons ground cinnamon
½ teaspoon sea salt
2 cups unsweetened almond milk
¼ cup pure maple syrup, plus more for serving
1 large egg (or flaxseed egg)
2 tablespoons coconut oil, melted
2 teaspoons pure vanilla extract
2 ripe bananas, sliced
The steps:
Preheat oven to 375 degrees Fahrenheit.
Spray an 8-inch square baking dish with cooking spray.
In a large bowl, mix oats, half the pecans, baking powder, cinnamon and salt.
Add milk, maple syrup, egg, coconut oil, vanilla and bananas. Stir to combine.
Pour oat mixture into the prepared baking dish and scatter remaining pecans on top.
Bake for 35 to 40 minutes, until the top is golden brown.
Remove from oven and let cool for a few minutes.
Serve with a drizzle of maple syrup for extra sweetness.
You can also bake and serve single portions of this dish in ramekins.
Check out Mullins' full recipe at eatingbirdfood.com. 4 / 7
Sweet and savory egg and oatmeal bowl
Who says oatmeal doesn't go with eggs? Mullins concocted this sweet, savory and even spicy combination that delivers protein, carbs and fat.
Protein is vital to the health of your whole body, and luckily, this recipe has plenty. A single large egg contains more than 6 grams.
The ingredients:
½ cup old-fashioned oats
1 cup water
Dash of sea salt
Dash of cinnamon, optional
Coconut oil cooking spray
½ cup egg whites
Sea salt and pepper
1 egg or egg white substitute
½ tablespoon almond butter, optional
Crushed red pepper or hot sauce, optional
The steps:
Heat oats and water in a saucepan over medium heat, and add little sea salt and cinnamon.
Cook, stirring occasionally, for 5 to 7 minutes or until the oats are creamy, and remove from heat.
While oats are cooking, spray a skillet with coconut oil cooking spray and fry egg whites with a sprinkle of salt and pepper.
Once the egg whites are cooked, push them to one side of the pan and cook the whole egg to your liking.
In a wide, shallow bowl, add oats drizzled with almond butter to one side and eggs topped with hot sauce or red pepper flakes to the other.
Get the recipe on eatingbirdfood.com.
Image credit: Brittany Mullins 5 / 7
Creamy apple-cinnamon steel-cut oats
McChesney-Wachs is no stranger to oats. Even though most people are more used to rolled or instant oats, he recommends making the switch to the steel-cut variety.
"The slightly crunchy texture brings me to a happy place, and that's a wonderful thing to be able to do early in the morning," he says. This recipe is perfect for a fall morning, especially after a trip to the apple orchard.
The recipe suggests peeling the apples, but you can leave the skins on for an extra punch of fiber. Give your fruit a good wash before enjoying.
The ingredients:
1 ½ tablespoons butter or coconut oil
1 cup steel-cut oats
1 cup milk, any kind
3 cups water
½ teaspoon kosher salt
1 Granny Smith apple, peeled, cored and cut into ½-inch pieces
¼ teaspoon cinnamon
The steps:
In a large pot over medium heat, melt 1 tablespoon butter or oil.
Stir in oats and toast for 2 to 3 minutes.
Add milk and water. Bring to a simmer, stirring frequently for 25 to 30 minutes or until the oatmeal is cooked through. Reduce heat to low.
While the oatmeal is cooking, heat remaining butter or oil in a small skillet over medium heat.
Add apples and cinnamon and sauté until soft, about 5 minutes.
When the oatmeal is ready, stir in the apples and serve with toppings, like chopped pecans, maple syrup or dried fruit.
For this and other recipes from McChesney-Wachs, check out saltpepperskillet.com.
Image credit: Justin McChesney-Wachs 6 / 7
Pumpkin pie overnight oats
If you're crunched for time, this make-ahead breakfast can help keep your morning stress-free. The oats transport easily and can be eaten cold or enjoyed warm.
Pumpkin, an autumn favorite, adds a bit of fiber and loads of vitamin A, which helps keep your skin, bones and eyes healthy.
The ingredients:
1 cup old-fashioned oats
1 cup oat milk, or other milk
½ cup plain, nonfat Greek yogurt
½ cup pumpkin puree
½ teaspoon pumpkin pie spice
¼ teaspoon vanilla extract
2 tablespoons maple syrup
½ teaspoon kosher salt
The steps:
Mix all ingredients in a refrigerator container with lid.
Seal and refrigerate overnight.
Enjoy with chopped pecans, pumpkin seeds and extra pumpkin pie spice.
If you find this recipe too sweet, skip the maple syrup and save about 100 calories and 24 grams of sugar.
Find the full recipe on saltpepperskillet.com.
Image credit: Justin McChesney-Wachs 7 / 7
Make your own oat milk
Uses for oats may start with oatmeal, but they certainly don't end there. Oat milk, a non-dairy beverage similar to almond, coconut or cashew milk, is exploding in popularity, but is often hard to find and can be pricy. But it's easy to make yourself. In addition to stirring it into a bowl of oats, McChesney-Wachs suggests blending it into a smoothie or pouring it into a bowl of cold cereal.
The ingredients:
1 cup old-fashioned oats
4 cups water
¼ teaspoon salt, optional
1 teaspoon vanilla extract, optional
Cinnamon, optional
The steps:
Add all ingredients to a high-speed blender and mix on high for 45 seconds to 1 minute, or until smooth. Don't overblend.
Pour the mixture through a fine-mesh strainer or cheesecloth and reserve the liquid.
Store in a sealed container in the refrigerator for up to 5 days.
Get the full recipe and other uses for oat milk at saltpepperskillet.com. Replay Slideshow