Dad's job isn't just putting together cribs and installing car seats. Here's some ways he can help emotionally:
Talk, talk, talk and listen, listen, listen. Your conversations about the Red Sox, politics, and pop culture may have to take a back seat to morning sickness, ultrasounds, and in-law fury. Engage in those conversations. She needs to have them.
We're all for you being in good health, but now's not the time to announce you're overweight or go on a 600-pushup-a-day workout plan. She's feeling angst about changes in her body she can't control, so you risk hurting her by focusing too much attention on your physique during this time. Keep eating healthfully (men with pregnant partners do tend to gain weight, too), but no strutting and flexing.
In the same spirit, watch what you're watching. If you linger over commercials with minimally clothed models, the not-so-subtle message is that you're enjoying another woman's body when your partner may not be feeling so good about hers.
I know you know her body is changing in many ways, but she's going through a lot - your understanding of those physical changes will be very much appreciated.
Turn the other cheek. She's going to have mood swings—many of them, perhaps. So don't be surprised if she's yelling at you one minute and kissing you the next. And while it's fine to have disagreements, of course, remember that her hormones are making her do and say things she may not normally do or say.
Remind yourself that you're no longer No. 1. It's easy to know that this is coming, but you may feel a different way once it's obvious that you will take a back seat. It may feel like a blow to your ego, but tell yourself it's really a boost for your family.
With everyone offering advice (read in-laws), try to keep it in perspective. They're not trying to tell you you're doing a bad job (though it may seem that way). They have good intentions, so take a deep breath and relax when mum corrects the way you screw the nipples onto the bottles.
Show your support in little ways: Give up your glass of wine since she is, too. Go to as many prenatal appointments as you can. Be an active participant in the birthing classes.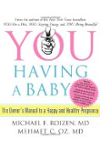 Continue Learning about Pregnancy, Fertility and Childbirth