It's true: Once you have a baby, your body changes. I'm not even talking about those extra pounds -- even if you get back to your pre-pregnancy weight, the landscape of your body has been altered. Your hips are a little wider. Your belly isn't as flat as it used to be. Your breasts aren't quite as perky. These transformations can all contribute to lower self-esteem, and that can take a toll on your libido. What doesn't change? Your vagina. It's a myth that childbirth stretches you out permanently. So don't worry that you or your partner won't enjoy sex as much as before. Your vagina will return to normal, especially if you do Kegel exercises to strengthen surrounding muscles. All told, your concerns about your body can harm your sex life more than any changes to your body itself.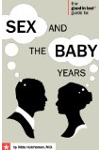 More About this Book
The Good in Bed Guide to Sex and the Baby Years
Available at a substantial discount for a limited time only, thanks to support from K-Y(R) Brand!Once you get down to the business of baby-making, the advice will pour in: books, magazines, in-laws,...
Continue Learning about Pregnancy, Fertility and Childbirth