Although we need to get about 30 minutes of exercise each day, we don't have to do all of our exercise in one session. Short exercise periods scattered throughout the day improve your health and fitness level.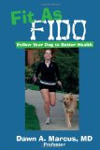 More About this Book
Fit As Fido: Follow Your Dog to Better Health
Let your dog teach you to live a happier, healthier, and more fulfilling life! Companionship with your pet can be used as a means and a motivator to increase your own physical and mental fitness....
You do not necessarily have to get all of your daily exercise at once. Will it be most ideal to complete a 30+ minute bout of exercise all at once, of course. However, will you still receive benefit from complete 2-3 separate bouts of exercise, yes. You ask why? Well if you do not complete any exercise then are you receiving any benefit? Nope. So completing some exercise is better than completing no exercise. Again, completing all of it at once is more ideal than completing it in separate segments.
Not at all, it may be hard to bread away and fit in a 30-60 minute workout. You may only have 15 minutes in the morning to do a fitness DVD, 15 minutes at lunch to take a brisk walk, and maybe go for a short jog or walk your dog in the evening. This all adds up and counts! Anything is certainly better than nothing.
Mounting scientific evidence suggests that shorter, more frequent exercise sessions can be just as beneficial for your health as longer sessions. In fact, one study funded by the National Institutes of Health found that short-but-frequent workouts (10-minute exercise sessions, four times a day) produced the same health benefits as a daily 40-minute session. So, if time has always been a barrier to getting in physical activity and exercise because you thought you needed an hour at the gym to make your workout count, you can now take comfort in knowing that it is possible to improve your health and fitness and manage your weight if you choose shorter exercise sessions but perform them more often. Put this into practice by taking a 10-minute walk in the morning, both before and after lunch, and in the evening for a total of 40 minutes of physical activity every day.
If you workout one hour at once or 6 times for 10 minutes you are still working out one hour. So taking a short period and knock out a quick exercise is beneficial.
Absolutely not! We are all busy people. Some of us don't have the time or desire to go to the gym so here is how you can fit in exercise whenever you have the time:
Get a pedometer and get your steps up to 10,000 per day. Make these steps into greater calorie burners by doing some interval walking. In other words, as you are out for a walk, speed walk for a block and then slow yourself down for the next block. This is a great way to increase the intensity of your walks and get your heart pumping which will help you lose weight faster.
Do simple exercises using natural opportunities throughout your day to sneak in exercise. For example, do some squats when you are waiting for water to boil, lunge down the hallway to get the laundry or do crunches as you are watching TV.
Try to add accidental exercise into your day. Stand during phone calls at work, take the elevator instead of the stairs or park in the very last spot at the grocery store.
If you learn to be creative you can sneak exercise into your day more naturally and you won't feel like you have to "carve" out the time. The world is your gym – so now go play!
No. You can break up your routines into 10-15 minute intervals throughout the day if that is more feasible for you.
There are studies out there that suggest that more frequent, but shorter session are just as beneficial as longer sessions. I have found both personally, and with my clients, that when a jam-packed day plagues our routines, if we split it up throughout the day not only does it give a sense of accomplishment, but also keeps the energy levels up throughout the day.
Psychologically it's ok to break up your workout into two or three shorter workouts versus trying to get it all in at once. Shorter workouts actually provide incentive for people to workout more because it's a shorter amount of time that fits better into busy schedules, the discomfort is for a shorter amount of time and a shorter time frame really helps people to feel like they can get through it.
Not at all! If you can't devote a longer single time block to exercise, splitting it up over the day or over the week will still yield great results and benefit your health just the same. When it comes to incorporating cardio exercise into your day, it's been demonstrated that accumulating a total of 30 minutes per day (for example, three 10 minute bouts in a day) is just as beneficial to your health as 30 continuous minutes of the same exercise.
When it comes to strength training and cardio, if it's difficult to perform them one after the other, split it across the day or even perform them on different days. You'll still reap the benefits of both. Exercise is about increasing activity in a systematic way, it doesn't mean killing yourself in the gym to get it all in at once. Recovery time is just as essential as the workouts themselves so be good to yourself and pace your activity and spread out the workload.
Continue Learning about Types Of Exercise