5 Junk Food Favorites Made Healthy
You don't have to avoid treats you know will blow your diet—just make them healthier!
Medically reviewed in February 2022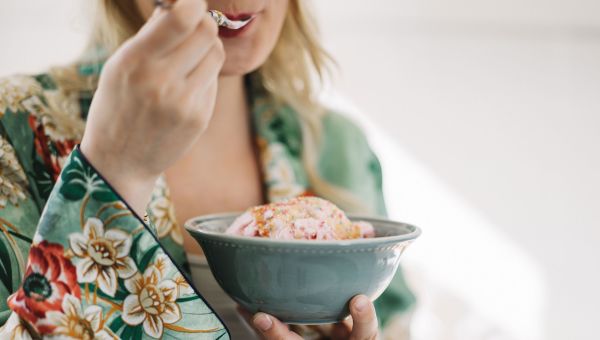 1 / 6
Snacks can be a part of a healthy diet and weight loss plan, but you need to know which to choose. Fruits and veggies with a tablespoon of hummus or nut butter are always healthy options, but they're not always the most fun.
If you're craving something super unhealthy, internal medicine specialist, Tassia Pfefferkorn, MD, with Saint Joseph Mercy Health System, reveals what to reach for instead. Here are five of the best ways to satiate hunger between meals while enjoying tasty alternatives for your favorite less-than-healthy snacks. 2 / 6
Bake some homemade french fries
Snacks seem to get a bad rap, but healthy between-meal noshing can prevent binging later. In fact, Pfefferkorn recommends eating snacks every day: "I always promote a five meal plan a day—three major meals, and two snacks in between," she says.
Remember: you can't stuff your face with just anything and consider it a snack. As a general rule, healthy snacks should contain no more than 200 calories. Take french fries, for example—they aren't conducive to a healthy diet, but you can still get your fix.
"Make your own oven-baked sweet potato fries or regular potato fries," Pfefferkorn says. A two- or three-ounce serving should be enough to satiate your craving. Slice a small spud, sprinkle with your favorite herbs and spices—like black pepper, paprika and rosemary—and bake until crispy, for a 130-calorie snack. 3 / 6
Give "skinny" popcorn a try
Your craving for potato chips may have started innocently enough, but before you know it, you've eaten the whole bag and blown your daily calorie count. One ounce of plain potato chips—about 15 crisps—will run you about 150 calories. That portion will hardly fill you up, so reach for something more satisfying.
You don't have to totally ignore your craving for a salty and crunchy snack. Just reach for a better option, like air-popped popcorn. Skip the butter and salt, and instead, sprinkle on some herbs and spices, for a treat that will run you only 30 calories per cup.
Homemade kale chips are another alternative. A drizzle of heart-healthy extra virgin olive oil and your favorite spices are all you need to crisp up a batch. Plus, a one-ounce serving contains just 35 calories. 4 / 6
Munch on energy bites
Don't be so quick to bust open that box of cookies—three measly treats contain about 160 calories, plus loads of fat, refined carbohydrates and sugar.
Instead, prep a batch of energy bites! Made with a base of whole grain oats and nut butter, these bite-sized delights will fuel your body and keep your tummy full until dinnertime. You can create your own recipe with ingredients like dried fruit, unsweetened coconut flakes, chia seeds and more.
To make one serving, combine two tablespoons of dry oats, one tablespoon of your favorite all-natural nut butter and your choice of add-ins, and roll into two balls. The base will run you just 140 calories, but provides fiber and protein, both of which will keep you full and satisfied.
Don't overdo the nut butter, "If you're going to eat peanut butter—or hummus, cheese or almonds—always practice portion control," Pfefferkorn says. 5 / 6
Feed a sweet tooth with homemade dried fruit
Chewy candies often satisfy your craving for something sweet, but they're also loaded with calories and refined sugar—and stopping after just a few can be a challenge. Instead of reaching into a bag of fruit snacks or sugary-candy, whip up your own dried fruit bites.
Slice up your favorite fruits—apples, strawberries, mangos and more—and pop them in your oven. Crank the dial to about 150 degrees Fahrenheit and let your sweet treats bake. Apples and mangoes take about six hours to dehydrate, while strawberries take about 12. Bake a bunch and enjoy for months to come! These chewy bites taste sweet and satisfying—without the added sugar.
Is chocolate more your speed? Grab a morsel of dark chocolate, at 170 calories per decadent ounce. "The darker the better," Pfefferkorn says. 6 / 6
Blend up banana "nice" cream
If a pint of your favorite ice cream is just what your taste buds are calling for, we've got a lower calorie solution—banana "nice" cream.
Simply freeze a banana or two, and blend with unsweetened cocoa powder, chopped nuts or fresh berries. One medium banana contains just about 100 calories, very little fat and no added sugar. And the healthy toppings and blend ins are seemingly endless. Replay Slideshow