5 Traditional Dishes Made Better With Pumpkin
Use this autumn squash for more than desserts and decorations.
Medically reviewed in February 2022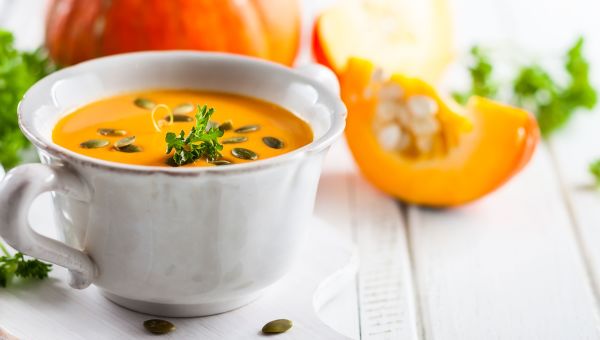 1 / 7
Pumpkins make festive holiday decorations, but they can also add a punch of flavor and boost of nutrition to your favorite comfort food recipes.
We talked to Bonnie Taub-Dix, RDN, author of Read It Before You Eat It: Taking You From Label to Table, to get the scoop on the health benefits of pumpkin, plus flavorful ways to add it to your meals.
Although you might not think to look for it until the end of summer or early fall, canned pumpkin can be found in supermarkets year-round. Taub-Dix keeps cans in her pantry to add to meals in every season. "I love using canned pumpkin to make muffins and pumpkin breads for my family," she says.
Pumpkin can punch up savory recipes like pasta and soup, and remember to save room for dessert! Read on for favorites from Taub-Dix. 2 / 7
Health benefits of pumpkin
Pumpkin is rich in carotenoids, which give this vegetable its vibrant hue and can be converted to vitamin A in the body. "Vitamin A is so important for your skin and eye health," Taub-Dix says. Pumpkin is also a good source of potassium, which promotes proper muscle function and helps regulate blood pressure.
Pumpkins also contain fiber, about 2.7 grams per mashed cup, which helps keep you feeling full and promotes healthy digestion. That fiber also provides fuel for your gut bacteria, Taub-Dix notes. To keep your dishes healthy, choose canned, unsweetened puree or fresh, chopped pumpkin to add to recipes.
Also good to know: This fall vegetable isn't as carb-heavy as you might think, and contains just 30 calories per raw, chopped cup. "I think it's a superfood that goes unrecognized," Taub-Dix says.
Don't forget the seeds. These nibbles make a healthy snack that delivers protein and amino acids. Clean the seeds, spread them on a sheet pan, add a touch of oil and your favorite seasonings and roast until golden brown. 3 / 7
Pumpkin and white bean soup
Beans are brimming with nutrition that contributes to this recipe's 7 grams of fiber and 8 grams of protein per cup. This soup also comes together in fewer than 30 minutes, making it a perfect weeknight meal.
What you'll need:
1 ½ cups unsweetened apple juice
1 15-ounce can white beans, drained and rinsed
1 small onion, finely chopped
1 cup water
1 15-ounce can pumpkin puree, unsweetened
½ teaspoon cinnamon
½ teaspoon black pepper
¼ teaspoon salt
1/8 teaspoon nutmeg, allspice or ginger
What you'll do:
Mash or blend white beans, onion and water until smooth. Set aside.
In a large pot, add pumpkin, apple juice, salt, pepper and spices. Stir.
Add the bean mixture to the pot and cook over low heat for 15 to 20 minutes, or until the soup is warmed through.
See the full recipe on the USDA website. 4 / 7
Pumpkin macaroni and cheese
Macaroni and cheese is a kid's menu classic, but this version is perfect for adults. This dish offers the same cheesy taste you know and love with more vitamins and nutrients than the original.
What you'll need:
1 ½ ounces dry, whole-wheat pasta
2 tablespoons low-fat cheddar cheese
1/8 cup pumpkin puree, unsweetened
1 ½ tablespoons nonfat or plant-based milk
1 teaspoon mustard
What you'll do:
Boil a pot of water and cook the pasta for 8 to 10 minutes, drain and let cool.
In a saucepan, combine pumpkin puree, milk and mustard and heat on the stovetop over medium heat.
Top noodles with pumpkin mixture. Sprinkle with shredded cheese and stir until well combined.
This recipe makes one creamy serving. For a variation of this recipe, head to the USDA website. 5 / 7
Pumpkin chili
This recipe is simple to prepare and so satisfying. Not only is it chock-full of flavor, it's loaded with protein and fiber, enough to keep you full long after your bowl is empty. Chili freezes well, so you can double the batch and tuck half of it away for a second easy meal.
What you'll need:
2 teaspoons olive oil
1 small yellow onion, chopped
1 green bell pepper, cored, seeded and chopped
2 jalapeño peppers, seeded and finely chopped
2 garlic cloves, finely chopped
1 pound lean ground turkey
1 14.5-ounce can diced tomatoes with juice
1 15-ounce can pumpkin puree
1 cup water
1 tablespoon chili powder
1 teaspoon cumin, ground
Salt and pepper, to taste
1 15-ounce can kidney beans
What you'll do:
In a large pot over medium high heat, saute onion, bell pepper, jalapeños and garlic for 5 minutes, stirring frequently.
Add turkey and brown. Then add tomatoes, pumpkin puree, water, chili powder, cumin, salt and pepper.
Bring to a boil and reduce to medium-low heat before adding beans.
Cover and simmer, stirring occasionally, for 30 minutes more.
Read a variation of this recipe on the USDA website. 6 / 7
Pumpkin peanut butter sandwich
Peanut butter and pumpkin together? Yes! And the best part is that it tastes delicious. Fans of PB and banana sandwich will enjoy this fall twist on a classic lunch.
What you'll need:
½ cup canned pumpkin puree, unsweetened
½ cup creamy or crunchy peanut butter
4 slices whole wheat bread
1 medium banana, sliced
What you'll do:
Combine pumpkin and peanut butter in small bowl and mix together with fork or spoon until well blended.
Spread 1 tablespoon pumpkin and peanut butter spread on each slice of bread.
Lay banana slices on 2 sides of bread. Top with second slice of bread to make two sandwiches. 7 / 7
Pumpkin bread with dark chocolate chips and almonds
Bonus recipe! This recipe from Taub-Dix is a family favorite. You can also turn it into muffins for smaller, on-the-go portions. Recipe makes two loaves of pumpkin bread or 24 muffins.
What you'll need:
2 cups whole wheat pastry flour
1 ⅓ cups all-purpose flour
1 tablespoon baking powder
2 teaspoons baking soda
1 teaspoon salt
1 teaspoon ground cinnamon
1 cup granulated sugar
4 egg whites or ½ cup liquid egg substitute
½ cup avocado oil or extra light olive oil
½ cup plain Greek yogurt
1 teaspoon pure vanilla extract
2 large eggs
⅔ cup unsweetened almond milk
1 15-ounce can unsweetened pumpkin puree
⅓ cup dark chocolate chips
⅓ cup slivered almonds
What you'll do:
Preheat oven to 350 degrees Fahrenheit.
Spoon flours into dry measuring cups and level with a knife.
Whisk together with the next 4 ingredients (through cinnamon) in a large bowl.
Combine sugar, egg whites, oil, vanilla extract, yogurt and eggs in a large bowl and beat with a hand mixer at a high speed until blended.
Add almond milk and canned pumpkin to liquid mixture, beating at a low speed until combined.
Add flour mixture to wet mixture and beat at a low speed just until combined (don't overmix.) Fold in chocolate chips.
Coat two 9×5-inch loaf pans or 24 muffin tins with cooking spray, and spoon in batter to fill halfway. Sprinkle almonds evenly over top of batter. Bake breads in loaf pans for 1 hour or until a wooden pick inserted in center comes out clean. (Or bake muffins in muffin tins for 30 minutes and check as above.)
Cool in pans for 10 minutes and then remove from pans and cool on wire rack.
See the full recipe at BonnieTaubDix.com. Replay Slideshow
Slideshow sources
Kulczyński B, Gramza-Michałowska A. The Profile of Carotenoids and Other Bioactive Molecules in Various Pumpkin Fruits (Cucurbita maxima Duchesne) Cultivars. Molecules. 2019;24(18).
Dotto JM, Chacha JS. The potential of pumpkin seeds as a functional food ingredient: A review. Scientific African. 2020;10:e00575.