A strict medical model of care focuses on preventing, diagnosing, and treating the complications that can occur during pregnancy, labor, and birth. Making use of medical expertise is essential for women who have particular conditions or illnesses, and the drugs and interventions used to manage such complications are invaluable and even lifesaving at times. However, interventions can also interfere with the normal rhythms of birth and actually create problems. Training in the medical model does not typically focus on developing skills to support the natural progression of an uncomplicated birth. In addition, under the medical model, care generally follows a certain routine.
This standardization reduces individualized care, but it can protect women from poor medical care and increase overall safety and healthy outcomes. Providers who work in medical settings (including nurse-midwives) are often constrained by hospital protocols (such as policies forbidding vaginal births after cesarean sections), insurance requirements, and liability concerns. The medical model of birth is prevalent in the United States today.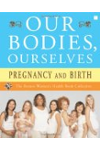 More About this Book
Our Bodies, Ourselves: Pregnancy and Birth
ALL THE INFORMATION YOU NEED TO MAKE WISE DECISIONS ABOUT YOUR PREGNANCY AND THE BIRTH OF YOUR CHILD -- FROM THE EDITORS OF THE CLASSIC "BIBLE OF WOMEN'S HEALTH" Pregnancy and birth are as ordinary...
Continue Learning about Pregnancy Complications