Fetal programming refers to changes in gene expression that affect the growth and functioning of the placenta, the amazing organ that filters nutrients, oxygen, and waste between mother and baby.

If a mother's genes for placental growth are turned off and the father's genes get expressed, a thicker, richer placenta develops and channels more nutrients to the fetus. This puts more strain on the mother, both because it deprives her of nutrition she needs to remain healthy and causes her to carry a larger baby, which is associated with a host of risks.

If, instead, the mother's genes get expressed, a smaller placenta develops and fewer nutrients get to the baby. In this case, the mother is protecting her interests—if the baby doesn't make it, she can always try again.

Fetal programming also occurs when a baby is malnourished in utero—either because mom doesn't eat properly during her pregnancy or because environmental toxins compromise the placenta's ability to deliver adequate nutrition. In either case, you get the same result: A smaller baby.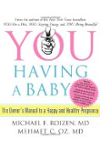 Continue Learning about Placenta & Fetal Development