When you are pregnant, the body goes into a special mode to develop and protect the growing fetus. It gives the fetus total priority! Your immune system, for example, ticks down a notch to prevent your body from attacking your wondrous creation. And if your baby doesn't get the nutrients he or she needs in the womb, it will borrow from you IOU style -- only it doesn't send a reminder for you to restock your stores. The reason you need extra calcium during pregnancy, for instance, is because your baby will take all the calcium from you and your food that it needs to grow.

Any deficiencies you experience during pregnancy are more likely to harm the "host"-- you! -- over the long term. This type of exchange depletes energy reserves during pregnancy, which can affect your system all the way through grandmotherhood and beyond. The body will make sure there is calcium in the blood without worrying about taking it from the bone.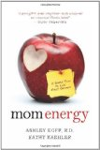 More About this Book
Mom Energy: A Simple Plan to Live Fully Charged
       From celebrated dietitian Ashley Koff and fitness trainer to the stars Kathy Kaehler comes Mom Energy, an exciting new way for moms to tap into their own natural and renewable sources of...
In order to maintain your calcium stores that you will need later in your lifetime it is important to have enough for your daily needs, the needs of your baby and to protect emptying your calcium savings account that is in your bones. During pregnancy you need a minimum of 1200 mg a day. Most traditional high sources of calcium rich foods will give you about 200-300 mg a day which means when you are pregnant it is important to have about 4-6 servings a day. Good sources of calcium include: skim or 1 percent milk, yogurt or frozen yogurt, icemilk, and low fat cheeses. Broccoli and spinach and dark leafy green vegetables like collard greens and kale also have some calcium but typically half the amount of milk and yogurt. You can find some calcium in water packed salmon, mackerel or sardines canned with bones. Tofu is also a source of calcium. To get some extra servings of calcium every day try adding milk instead of water when cooking hot cereal. Try eating low fat cottage cheese or yogurt for a snack. Try adding low fat cheeses to your salads, and on your veggies. If you know you are unable to get sufficient calcium in your daily diet talk to your midwife or OB/gyn about taking a calcium supplement.
Continue Learning about Nutrition & Pregnancy