In most cases, sexual intercourse is safe during a normal pregnancy. Sexual intercourse is not a cause of miscarriage, stillbirth, or premature labor in a healthy pregnancy. Women with placenta previa, cervical incompetence, a history of miscarriage, multiple fetuses, unexplained bleeding or cramping, or other risk factors may be advised to avoid sexual activity.
In general, there is no reason to interrupt your normal sex life. Many partners are concerned that having sex will hurt the baby, or that orgasms will start labor or cause bleeding. In a normal pregnancy, none of this is possible. The baby is well-protected by fluid, muscle, and bone and won't be bothered one bit. However, if you have a history of miscarriages, pregnancy-related vaginal bleeding or other complications, your doctor may recommend that you abstain from sex. The last four to six weeks of pregnancy might be too uncomfortable for you to have intercourse. Also, mood shifts and emotional changes during pregnancy may cause you to lose interest in sex. If this happens to you, be sure to discuss your feelings with your partner.
Many patients ask whether or not they can remain sexually active during their pregnancy, and for most people the answer is yes. Some women find that it is more uncomfortable during pregnancy, so that could limit sexual activity. But if there are no complications of the pregnancy, such as preterm labor or bleeding problems, then most of the time intercourse can be continued normally.
For most people with no other concerns, sex during pregnancy is perfectly normal and safe. Many women feel more amorous during pregnancy if they are not suffering from first trimester nausea/ vomiting and or the normal sleepiness early on. Many partners are turned on by mom's increase in breast size and her new found desires. On the flipside some moms are too tired, feel awkward, fear miscarriage and or spend too much time nauseated to even consider sex. Dads sometimes fear they will hurt mom or the baby and avoid sex during pregnancy. Some even suffer from a Madonna complex (You don't make love to your mother!). The trick is to have both mom and dad on the same page (interested or not) at the same time. Healthcare providers are used to patients asking about sex during the prenatal visit so don't hesitate to bring up your questions with you to your midwife or ob/gyn. They have many helpful hints for creative positioning during the last few months.
Sex during pregnancy is perfectly safe for most couples, says nurse midwife Paula Greer. Watch the video to learn some ways to shift the baby weight to make sex more comfortable for a mom-to-be.
Unless your doctor tells you otherwise, sex is safe. You may find that your interest in sex changes during pregnancy. Talk to your partner about other positions if the way you usually have sex is awkward or no longer feels good. Call your doctor if sex causes:
Pain
Vaginal bleeding
Fluid leakage
This answer is based on source information from the National Women's Health Information Center.
Generally, having sex during pregnancy is safe. There are certain pregnancy complications that may be worsened by intercourse or orgasm during pregnancy. It is not uncommon to have some uterine contractions during or after intercourse, but typically these resolve quickly.
Thanks to pregnancy-related mood swings, one minute you may crave nothing more than a steamy sex session, and the next you may feel about as sexy as clay.
So, if you do want to have sex, go ahead. As long as your pregnancy is proceeding normally, you can have sex as often as you like. If your uterus is in a typical position, there's no risk of hurting the baby during intercourse, because the amniotic fluid protects the baby from impact. Plus, because there's a mucus plug that blocks the cervix during pregnancy, there's virtually no chance of unintended contact between what's inside of you for 9 months and what may be inside of you for only 9 minutes.
That said, we know that the standard missionary position, with your partner on top, is likely the least comfortable as your belly gets larger.
There are uncommon cases in which you shouldn't have sex, and your doc will guide you. He or she may recommend that you refrain from sex if you're at risk for preterm labor, you're leaking amniotic fluid, your cervix begins to open prematurely, or you have placenta previa.
And if you don't want to have sex, there's absolutely nothing wrong with that. (Men, read that again.) Perfectly fine. We do recommend that you focus on finding other ways to physically, and thus emotionally, bond with your partner. (Men, read that again.) If the sex comes, fine. But if not, you've still made sure to connect on deeper levels and avoid feeling like the ol' spark is gone and your relationship is losing a bit of mojo.
Sex is perfectly safe for most couples. Your developing baby is shielded by the strong muscles of the uterus, as well as by the amniotic sac and fluid. The thick mucus plug that blocks the cervix during pregnancy adds another layer of protection. And I'm sorry to break it to you guys, your penis isn't large enough to do any damage.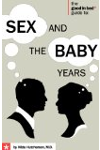 More About this Book
The Good in Bed Guide to Sex and the Baby Years
Available at a substantial discount for a limited time only, thanks to support from K-Y(R) Brand!Once you get down to the business of baby-making, the advice will pour in: books, magazines, in-laws, you name it - everyone will have something to say! But there's one thing that nobody will be talking about: your sex life--how it will change, and why you should cling to it, as passionately as you'll cling to that new bundle of life with the big eyes and winning smile.That's where this book comes in. Dr. Hilda Hutcherson, MD is a distinguished OB/GYN, an author of numerous best-selling books on the subject of sexual health, a candid advocate of healthy sex on shows such as Oprah, and, most importantly, a wife and mom of four - this lady knows what she's talking about!From the pressures of conceiving, to the fumblings of pregnancy sex, to the exhaustion of baby boot-camp and the ongoing trick of not letting your new identities as parents subsume your identity as a couple, having a baby isn't just an event, it's a milestone: a series of events that signifies a true transition into adulthood and marks a clear division between then and now. Available at a substantial discount for a limited time only, thanks to support from K-Y(R) Brand "Sex and the Baby Years" is about navigating that milestone - going in one way, and coming out changed on the other end. But also staying connected and loving throughout the process.About This Author:A graduate of Stanford University and Harvard medical School, Dr. Hutcherson is presently a Clinical Professor of Obstetrics and Gynecology and Associate Dean of Diversity at Columbia University College of Physicians and Surgeons. Hilda lives in Westchester New York, with her husband and four children.Dr. Hutcherson's commitment to women's health is evidenced by her monthly women's health column in Redbook Magazine where she is also a contributing editor. She is a frequent contributor to Essence Magazine, where she had a monthly column for eight years. She is a frequent invited speaker on Women's Health and Sexuality, and has appeared on many national television programs, including Oprah, the Racheal Ray Show, the TODAY Show, Good Morning America, the CBS Early Show, 20/20, Dr. Oz and others. Dr Hutcherson is the author of three books, including the best-seller: "What Your Mother Never told You About Sex."
Continue Learning about Health & Pregnancy