Most pregnant women visit their doctor or midwife, or other healthcare provider, once a month for the first 28 weeks and then every two to three weeks until week 37. After that, you will most likely have weekly appointments until the baby is born. However, the schedule may vary depending on the preferences of your individual healthcare provider and medical needs.
Trinity Health is a Catholic health care organization that acts in accordance with the Catholic tradition and does not condone or support all practices covered in this site. In case of emergency call 911. This site is educational and not a substitute for professional medical advice, always seek the advice of a qualified health care provider.
How often you should see your doctor or midwife when you are pregnant depends on a number of factors. Pregnant women between the ages of 18 and 35 who are otherwise healthy are considered low-risk and typically have prenatal visits:
every four to six weeks for the first 28 weeks of pregnancy
every two to three weeks from week 28 to week 36
once a week during the ninth month
Women with certain pre-existing conditions or who develop conditions during pregnancy, teens who are pregnant or first-time mothers older than 35 are considered high-risk and may need more intense medical care. This is part of why it's so important to see your doctor right away—the earlier a risk factor is identified, the sooner your doctor can help you manage it for a safer pregnancy and delivery.
During pregnancy, you should see your doctor or midwife every four to five weeks until 28 weeks, every two to three weeks from 28 to 36 weeks, and then weekly until you're ready to deliver. Of course, if you have any complications or if your pregnancy is high risk, you'll likely see your healthcare provider more often.
Your doctors, nurses, midwives, and other supporters are there to help guide you, to help steer you in a different direction if need be, and to keep the big picture in mind. I want you to understand what they do and that it is perfectly, absolutely, undeniably a-okay for you to call if and when you need their guidance.
Ideally, you should have a pre-conceptual visit with your provider to make sure you are in optimal health before becoming pregnant. But don't worry if you discover you are pregnant before having a chance to meet with your doctor or midwife; these conversations and tests will occur during your first prenatal visit.
Most women's first prenatal visit occurs between 6 and 8 weeks after the first day of their last menstrual period. As long as your pregnancy is considered low risk and is progressing normally, you will visit your doctor monthly for the first 28 weeks, then every 2 weeks until 36 weeks, and weekly thereafter. If you go beyond 40 weeks, your doctor will want to see you once or twice a week until you give birth.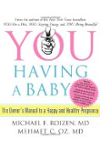 Continue Learning about Health & Pregnancy