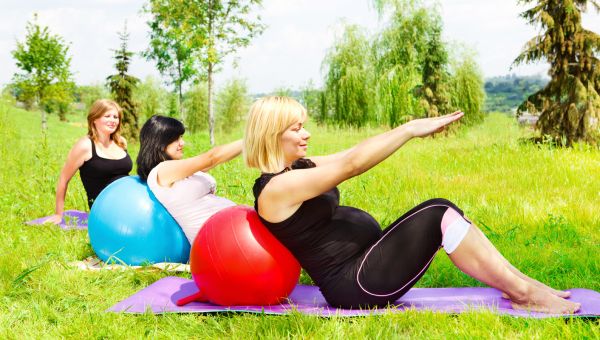 Get to Your Fighting Weight During Pregnancy
Laila Ali, Muhammad Ali's daughter and undefeated women's boxing champion (24-0), fought as a super-middleweight (160-168 pounds) and light-heavyweight (168-175). Currently retired, "She Bee Stingin" (her nickname) is a married mom of two and still in great fighting shape (she shed her second pregnancy weight-gain of 40 pounds and did a NYC Triathalon).
Making sure you're a good "fighting weight" is essential for all moms-to-be (and moms). When you're a healthy weight, it's likely your kids will be born a healthy weight and maintain it. That lessens the risk of prematurity and its complications as well as chronic illnesses like diabetes that can follow overweight newborns into adulthood.
According to a new UK study, doctors can tell from fats in umbilical-cord blood (they get there from Mom) if a fetus is going to be an overweight newborn, an overweight child at age 9 and even heavier teenager by 17! So what can an overweight woman do if she wants her kids to have a fighting chance for a healthy life?
Before becoming pregnant, aim for a healthy weight and take a multivitamin with folic acid and DHA-omega-3 daily -- that cuts risk of miscarriage 55 percent.

If you're overweight and become pregnant, remember,

you're eating for 1.1

, not two; you need just 10 percent more calories during the first six months. And near delivery you need 15 to 20 percent more than your baseline!

Start a healthy nutritional plan with unprocessed foods. That'll reduce your chances for

preeclampsia

(elevated blood pressure) and labor problems.
One common myth is that when you are pregnant, you should be eating for two people. The truth is that you should be eating a healthy amount of fruit, vegetables, and meat high is omega-3s. If you up your caloric intake by 300 a da...
y, you will be eating plenty of food for both you and your baby. Along with taking prenatal vitamins, you should also continue you exercise and remain active during your pregnancy. Consult with your doctor for pregnancy approved exercising.
More