If you have fibromyalgia, be sure to talk to your doctor regularly about your concerns about and plans for adding to your family. If you don't plan to have children, discuss your contraception options. Once you decide it's the right time to become pregnant, schedule an appointment with your doctor to make plans for your future pregnancy.
The pregnancy planning stage is an ideal time to maximize your use of effective nondrug therapies to reduce your fibromyalgia symptoms. You should also review your medications with the doctor who treats your fibromyalgia and with your gynecologist. Review all of the prescription and over-the-counter drugs, and nutritional supplements you use. Ask how you should adjust your medication regimen to make sure you're only using drugs that are safe during pregnancy. Ideally, while you are trying to get pregnant, you should use only medications that will be safe for the baby at the time of conception and during early pregnancy.
Here are some tips on planning for pregnancy if you have fibromyalgia:
Discuss your plans for conception and contraception openly with your healthcare provider.
Make sure you're comfortable using typically effective nondrug techniques for your fibromyalgia symptoms:
Ask about a referral to a behavioral pain psychologist for behavioral therapies, relaxation, and stress management therapy training.
Ask about working with a fitness trainer or physical therapist to develop an effective aerobic and strength-training exercise program.
Change your aerobic exercise program to limit jarring activities and exercises that might put you at risk for falling or hitting your abdomen.
If you take fitness or yoga classes, talk about modifications you may need to make as your pregnancy progresses.
Consider meeting with a dietician for nutritional assistance if you have significant digestive problems, such as irritable bowel syndrome (IBS).
Make sure you get sufficient sleep.
Start taking a daily multivitamin containing at least 400 mg of folate.
Review your medications and develop a safe treatment plan you can use while trying to conceive and when pregnant: Tell your doctor about any prescription, over-the-counter, and nutritional supplements you are using or considering using.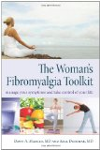 Continue Learning about Fibromyalgia