In fibromyalgia, tender points are seemingly unrelated areas on the body that are painful when pressed. Researchers have identified 18 areas that are typically tender when pressed.

People with fibromyalgia often find the tender point examination a little silly, and may ask their doctors, "But doesn't everyone find these spots tender when you press them?" The answer to this is a resounding "no!" At the University of Pittsburgh, we helped develop the tender point examination and studied these areas in people with fibromyalgia and other severe chronic pain conditions. We found that experiencing tenderness when these point areas were pressed was specific for fibromyalgia. Having many sensitive tender points occurs in fibromyalgia, but not in people with pain caused by other conditions -- such as muscle pain, pinched nerves, slipped discs, or arthritis.

People with other conditions may have several painful tender points, but they usually don't have as many, and they may also have other issues that help distinguish their symptoms from fibromyalgia. The most important message is that people with fibromyalgia have a different pattern of pain than do people with other chronic pain conditions.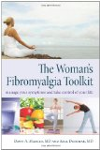 Continue Learning about Fibromyalgia