Ideally, the minimum number of medical team members required to treat a person with fibromyalgia must include:
A doctor to oversee the overall treatment regimen including prescribing and monitoring medications.
A complementary medical professional to guide the person with fibromyalgia in discerning what type of alternative therapy protocols might be beneficial, such as an aerobic exercise program. This healthcare professional also monitors the program's success, makes appropriate activity changes and motivates the patient.
A mental health expert adept at cognitive behavior therapy who can also counsel people in learning how to make adjustments in their lives to accommodate changes that naturally occur when living with a chronic illness.
Continue Learning about Fibromyalgia Treatment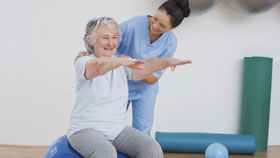 Because no underlying disease process is known, doctors aim to treat the symptoms of fibromyalgia. A healthy diet and getting regular, low-impact exercise like yoga, walking or water aerobics are key to maintain your health with f...
ibromyalgia. Your doctor may also prescribe pain medication and recommend support groups or counseling.
More