Whether a health insurance plan covers a particular medication depends on a number of factors. One key factor is whether the medication is FDA (Food and Drug Administration). In addition to FDA approval, insurance companies will consider research and best practice guidelines in making coverage decisions. Each plan is different, so it is best to check with your own plan to determine whether a medication is covered or not.
Continue Learning about Fibromyalgia Treatment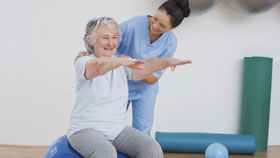 Because no underlying disease process is known, doctors aim to treat the symptoms of fibromyalgia. A healthy diet and getting regular, low-impact exercise like yoga, walking or water aerobics are key to maintain your health with f...
ibromyalgia. Your doctor may also prescribe pain medication and recommend support groups or counseling.
More