A study published in the Clinical Journal of Pain found that women with fibromyalgia are less likely to have a baby. This study compared the number of children born to women with a painful jaw condition called temporomandibular dysfunction (TMD) but no fibromyalgia, women with TMD plus fibromyalgia, and healthy women without pain issues.
Women with fibromyalgia had 10% fewer pregnancies than either the TMD women without fibromyalgia or the pain-free women. The percentage of women who had never been pregnant was also highest in women with fibromyalgia:
36% of the women with fibromyalgia had never been pregnant.
31% with TMD but no fibromyalgia had never been pregnant.
27% of the healthy women had never been pregnant.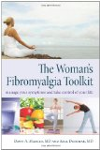 Continue Learning about Physical Effects of Fibromyalgia