When you have fibromyalgia, you don't need additional health problems caused by unhealthy lifestyle habits. Taking care of yourself by controlling your weight, getting sufficient sleep, eating right, and avoiding unhealthy habits such as smoking is important for your overall health and for managing fibromyalgia. In addition, unhealthy lifestyle habits can aggravate your symptoms. It's important for everyone to follow healthy lifestyle habits, but this is even more important when you have fibromyalgia.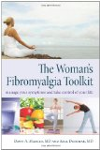 While there's no magic bullet, there are some quick and easy lifestyle changes you can make to feel better with fibromyalgia.
Cut your to-do list in half. Because you live with constant pain and fatigue, you need to redo your to-do list and get your commitments straight. Only do those things each day that you can perform easily. Just say no to family and friends who want you to give more than you can handle.
Get plenty of sleep. With fibro, you may feel like you haven't slept in days, but your body is acting like you've just downed 15 cups of coffee. Sleep is difficult with fibromyalgia, so talk with your doctor about your personal sleep issues. Get helpful sleep tips and consider taking medication, if needed.
Move around. Exercise may be difficult because of the widespread muscle pain but it's still important for your endurance, strength, and overall health. Try taking a 15-minute warm shower before and after exercise. This helps to reduce pain so you can exercise easier and longer. Ask your doctor or physical therapist about exercises that you can try. And be sure to exercise outdoors, particularly during the early morning hours, to help reset your circadian rhythm.
Nourish your body and brain. Even if you're too tired or in too much pain to be hungry, make sure you eat regular, balanced meals to keep your immune system working at its best.
There are many lifestyle changes you can make to improve fibromyalgia symptoms. Try using moist heat applications or warm baths twice daily to help decrease pain and stiffness associated with fibromyalgia. Some people find that applying pressure to painful trigger points helps to reduce pain and allows you to move around more. Sitting properly at your work station and taking frequent breaks to stretch can help ease neck and shoulder pain. Getting up, moving around, and stretching your body are all important in reducing the muscle pain. Exercise helps boost endorphins, the body's natural opioids. Not only is exercise a good way to increase fitness, but it can also improve your mood.
Begin by cutting back sugar and being sure that you stay hydrated. Also recognize that not everything is a stress, even though we live in an environment where "fear sells". In addition a high protein, low carbohydrate diet can be very helpful, as can getting good nutritional and sleep support.
Lifestyle changes are a necessary component of the treatment plan. Exercise is important and takes the form of light aerobic exercise such as walking or water aerobics. Physical therapy is usually necessary too. Reductions in stress by changing work environments or therapy may be helpful. Getting plenty of sleep is very important. There is no specific diet for fibromyalgia patients but it should be balanced with vitamin supplements.
Continue Learning about Living With Fibromyalgia