Managing your fibromyalgia will probably involve several types of treatment, rather than a single modality, because symptoms are usually complicated and diverse.

It will take a few weeks before you'll start to notice improvement with a new therapy. Track your progress so you can see what treatment or combination of treatments is most helpful for you. It's important to remember that no one treatment is likely to result in a dramatic reduction in symptoms. Often, you won't see the "light at the end of the tunnel" until you are using several treatments, each adding a bit of improvement.

Most treatments help reduce pain, but not every treatment works well for other symptoms, including poor sleep, fatigue, and mood disturbance. Make sure you target your most difficult symptoms.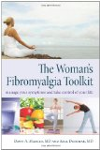 A number of pharmacologic treatments are available to treat fibromyalgia symptoms including three FDA-approved medications: pregabalin (Lyrica), duloxetine (Cymbalta) and milnacipran (Savella).

Additionally, healthcare providers may treat people's FM symptoms with non-narcotic pain relievers (e.g., tramadol) or low doses of antidepressents (e.g., tricyclic antidepressants, serotonin reuptake inhibitors, serotonin norepinephrine reuptake inhibitors) or benzodiazepines. People with FM should be reminded that these antidepressants are "serotonin builders" and given in low dosages work not only in helping to restore better sleep but also to rellieve pain. For instance, Cymbalta was approved for treating diabetic neuropathy -- a painful, debilitating condition -- before being studied and appproved for fibromyalgia pain treatment.

If the person is experiencing depression, higher levels of these or other medications may need to be prescribed. Trigger point injections using agents such as lidocaine or anti-inflammatory medications have been shown to be beneficial for some people with fibromyalgia and may be used for myofascial pain relief. An important aspect of pain management is a regular program of gentle exercise and stretching, which helps maintain muscle tone and reduces pain and stiffness.
Continue Learning about Living With Fibromyalgia