If you feel that it has taken forever to get diagnosed with fibromyalgia, you're not alone. A study published in BMC Health Services Research found that it takes over 2 years for most people to get a diagnosis. This study evaluated the diagnosis of 800 people with fibromyalgia worldwide, and the results were fairly consistent -- so it's not just you, your doctor, or your health insurance. Getting the diagnosis takes a long time.
Why does it take so long to get diagnosed? Interestingly, delays occur because most people with symptoms wait before they finally see a doctor. Then it takes quite a while to go through the testing process. In the survey described above, they found that:
People did not see a physician until they had symptoms for an average of over 11 months.
Two in five didn't tell their doctor about their symptoms sooner because they were afraid the doctor wouldn't take their complaints seriously.
Once people told their doctors they were having symptoms that might be fibromyalgia, it took an average of almost 2 1/2 years before a diagnosis was made. The average person with fibromyalgia saw three or four doctors before finally getting a diagnosis.
If you're new to having symptoms that might be fibromyalgia, and it's taking too long to get a diagnosis, don't worry. The first step is to recognize that your symptoms are serious, treatable, and important to discuss with your doctor. While it may take a long time before your doctor is confident that you definitely have fibromyalgia, you should be able to start treatment to improve your health while the process is underway.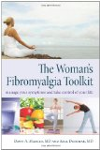 Continue Learning about Fibromyalgia Diagnosis