Before your visit to the doctor, spend some time thinking about your fibromyalgia symptoms, so that you are prepared to answer these questions:
What are two to four of your most troublesome symptoms, and how do they affect you and your daily routine?
What other symptoms do you experience often?
Where do you expect to have pain on different days -- which areas of your body?
When did your symptoms first start? Did they start within a short time of having a traumatic injury?
Does anyone else in your family have fibromyalgia or symptoms similar to yours -- mom, dad, sisters/brothers, or children?
How many hours do you typically sleep at night? Do you feel rested after sleeping?
Has another doctor diagnosed you with fibromyalgia? Do you know what tests were ordered?
What has been done in the past to treat your fibromyalgia? Do your symptoms interfere with work or school, or cause you to miss out on family activities?
Do you have other medical conditions or health symptoms?
What medications (over-the-counter, prescription, and natural remedies/supplements/vitamins) do you use? What do you take when you have a fibro flare?
Answers to these questions will help your doctor make the proper diagnosis and start designing your individualized treatment program.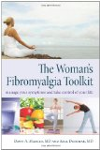 Continue Learning about Fibromyalgia Diagnosis