The American Society of Rheumatology published guidelines in 1980 and then updated them in 2010. The diagnosis of fibromyalgia is met when there is widespread pain on many parts of the body. Other associated findings include fatigue and cognitive difficulties or not thinking clearly.
In 1990 the American College of Rheumatology (ACR) published diagnostic research criteria for fibromyalgia. It included a history of chronic and widespread body pain and the presence of at least 11 of 18 tender points that are revealed through a physical examination of the affected person. Pain is considered widespread when the following are present: pain in both sides of the body; pain above and below the waist. In addition, axial skeletal pain (cervical spine, anterior chest, thoracic spine or low back pain) must be present, all lasting for at least three months.
You may have fibromyalgia if you have had symptoms of about the same severity for at least 3 months and one of the following based on the new American College of Rheumatology (ACR) preliminary fibromyalgia diagnosis questionnaire:
A Pain Score of at least 7, and a Total Symptom Severity Score of at least 5.
A Pain Score between 3 and 6, and a Total Symptom Severity Score of at least 9.
A Fibromyalgianess Score of at least 13.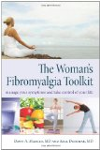 Although the earlier fibromyalgia criteria required pain in the upper and lower body and left and right, and also to have 11 of 18 tender points positive, it has been recognized that most physicians simply are not trained in doing the tender point exam. Because of that newer criteria have been developed requiring widespread pain in at least 7 of 19 areas (as reported by the patient) as well as a symptom scale score over five including symptoms of fatigue, awaking unrefreshed, and brain fog. In addition, until further research explores this, the patient's do not have another disorder that explains the pain. This last part of the criteria is still controversial as fibromyalgia can be triggered by other painful conditions.

Basically, if you have widespread pain associated with severe insomnia, you likely have fibromyalgia.
Since 1990, the gold standard criteria for diagnosing fibromyalgia has been the 18 tender points established by the American College of Rheumatology (ACR). Fibromyalgia is characterized by the sensation of pain when even light pressure is applied to these points. Just enough pressure to turn the nail white when you press against one of these points can be very painful for someone with fibro, while people without fibro won't even raise an eyebrow. If 11 or more of these tender points are painful, and have been so for three months or more, that is a good indication for a diagnosis of fibromyalgia. Not many primary care physicians use the tender points test, though, so the ACR has developed a different approach. This symptom severity (SS) criteria, which is based on questions your doctor asks about your symptoms, has been shown to correlate highly to the tender points system.
To receive a fibromyalgia diagnosis, the American College of Rheumatology (ACR) has identified criteria to help doctors. You must have a history of widespread pain for at least three months. The pain may be in the left or right side of your body and above or below the waist. Also, the pain may be in the neck, front of the chest, middle of the back, and/or lower back. Along with this widespread pain, you must have pain in 11 of 18 trigger point sites. These are areas of localized tenderness that are far more painful or tender than the surrounding areas. Trigger points are often present at tendons, in the soft tissues over bones and in the muscles.
Continue Learning about Fibromyalgia Diagnosis