Women with fibromyalgia often worry that their symptoms will disrupt family life when they are unable to fulfill the physical, social, and emotional needs of others in the household. Missing important family events, such as a child's soccer game or a school play, can lead to frustration for both the person with fibromyalgia and other family members. However, having a family member with fibromyalgia doesn't result in a significant overall burden on others in the family. A small study published in the journal Rheumatology International compared people with fibromyalgia to healthy adults and found that problems with pain, fatigue, poor sleep, and loss of libido were not increased in relatives living with a family member who had fibromyalgia. The researchers concluded that living with someone with fibromyalgia does not cause significant health complaints, emotional distress, or reduced quality of life.

One recent study from Indiana and Purdue Universities suggested that women with fibromyalgia do need to be aware that their symptoms may be affecting their marriage. The study compared marital satisfaction in husbands of women with fibromyalgia and a similar group of husbands of healthy women. Both groups had been married an average of 26 years. Although marital satisfaction was within the normal range for both groups, satisfaction was significantly lower among the spouses of women with fibromyalgia. Dissatisfaction was based on lack of social support and strain in domestic roles and sexual relationships, indicating that those with fibro must be sensitive to the burden the disease places on their spouses and make sure their needs are also being met.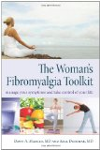 Fibromyalgia is a chronic (more than 3 months), non-life threatening pain syndrome that can affect many areas of one's life. Typically more common in women, the most common symptoms is diffuse body pain involving muscles and bones ("I hurt all over"), tender or achy muscles, fatigue, stiffness, and poor sleep. While certainly challenging for the affected person, it can be difficult for a friend or family member to see their loved-one suffer and to understand just what is wrong, because often these patients look completely normal from the outside, and their blood tests and X-rays are normal as well. It is important for fibromyalgia patients to remain physically active and to maintain a positive outlook, so loved ones should encourage them in any way possible. Whether it be joining them as they go for a walk, swim, or bike ride, attending support group meetings, accompanying them on a doctor's visit, or just being patient and encouraging them to maintain social interactions, friends and family can play a very helpful role in successful long-term fibromyalgia management.
Continue Learning about Caring for a Loved One with Fibromyalgia