Research suggests that massage may help fibromyalgia by reducing the release of chemicals, called neurotransmitters, that transmit pain signals from the body to the brain. One study treated people with fibromyalgia for 30 minutes twice a week for 5 weeks with either massage therapy or relaxation training. Mood improved in both groups, while pain was also reduced in the group that received massage. Levels of substance P, an important pain neurotransmitter, were also reduced in this group, thus supporting a biological basis for massage therapy.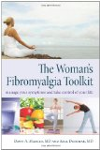 Massage therapy can be helpful in treating fibromyalgia, but it depends on the severity of your symptoms. And, you have to be careful about how it is done. Strong, vigorous massage is usually not helpful. Massage performed by well-trained massage therapist using a very light touch can be beneficial if you have mild fibromyalgia. It's not usually helpful if you have severe fibromyalgia.
Massage is among the most popular alternative treatments that people with fibromyalgia try. Experts suspect that massage may help to ease pain and other fibromyalgia symptoms by increasing blood circulation and stimulating nerves.

Certain types of massage therapy may be especially helpful for people with fibromyalgia. For example, trigger point massage focuses on muscle "knots" that may be tender and painful. Another massage technique, called myofascial release, may also benefit people with fibromyalgia. In this treatment, the massage therapist stretches tense, contracted muscles to help them "release" or relax.

If you decide to try massage therapy, tell your therapist if you have fibromyalgia. He or she should apply low pressure and use a gentle touch until you know how your muscles will respond.
Massage is one of the most popular complementary treatments for people with fibromyalgia. Even though massage has been part of healing traditions for thousands of years, we're still not exactly sure how it affects the body. According to one hypothesis, called the "gate control theory," massage provides stimulation that helps to block pain signals sent to the brain. Other hypotheses suggest that massage boosts certain brain chemicals that can relieve pain symptoms.

If you want to include massage in your treatment plan for your fibromyalgia, find a massage therapist who will start gently, applying very low pressure at first. Over time, the therapist may be able to increase the pressure. If you can afford it, you may want to consider getting a massage once or twice a week.