Growth retardation may be associated with factors that cannot be totally controlled. However, other factors such as nutrition, rest and exercise can be controlled. Eating balanced meals, quitting smoking, minimizing stress, and getting regular exercise, rest and sleep can help prevent serious complications. Early and regular prenatal visits with your doctor allow this condition to be discovered early. Then you and th baby can be careully checked throughout the rest of your pregnancy. Be sure to discuss any concerns you have with the doctor so you can maintain a positive outlook during the remainder of your pregnancy.
The answer to that question really depends on how far along you are, and the decision about how to manage the situation comes down to weighing risks versus benefits.

Essentially, if you're far enough along (say, 38 weeks) but the baby is showing some signs of distress, your doctor will probably suggest you deliver. But if you're earlier in your pregnancy (say 30 to 32 weeks), at a time when your baby's lungs may not be fully developed, your doctor may want to take other precautions, like retesting a few hours to a few days later or putting you on bed rest.

The good news is that if the problem is related to inadequate fetal nutrition (as opposed to a genetic condition or inadequate blood flow to the uterus), the prognosis is usually good.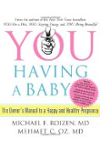 Continue Learning about Fetal Development Basics & Pregnancy