Post partum hemorrhage (PPH) is defined as blood loss of 500mL or more after a vaginal birth and 1000 mL or more after a cesarean birth. Excessive blood loss in the first 24 hours following the birth is classified as an early PPH and beyond 24 hours it is a late PPH.
The most common cause of early PPH is uterine atony or failure of the uterus to contract after the birth. PPH due to uterine atony usually occurs in the first 4-6 hours after birth. Some factors that increase the risk of uterine atony are: labor induction or augmentation, medication that result in muscle relaxation, chorioamnionitis, a large baby, multiple gestation or a full bladder. A second cause of PPH in the first 24 hours is trauma to the genital tract, which is the uterus, cervix, vagina, or labia. Trauma to the genital tract can lead to disruption of the soft tissue and tearing of blood vessels
Late PPH is due to retained placental fragments that delays healing and leads to bleeding from the former placental site.
In about one in twenty births, the woman experiences heavy bleeding after giving birth (postpartum hemorrhage). This happens most commonly in the first twenty-four hours after birth, but occasionally a few days or even many weeks later.
By far the most common cause of postpartum hemorrhage is that the muscles of the uterus do not contract well enough, a condition known as uterine atony. This condition is most common in the first day after birth. If you experience heavy bleeding, your provider may vigorously massage your abdomen to empty the uterus of any blood clots. Your provider may also manually remove blood clots from inside the uterus, through the vagina. If these approaches are not successful, the condition can be treated with various medications, ranging from those that have been available for many years, such as synthetic oxytocin (sold under the brand name Pitocin) and methylergonovine, to newer medications, such as misoprostol (Cytotec) and carboprost tromethamine (Hemabate). The other causes of hemorrhage right after birth are retained placenta and unrecognized lacerations of the vagina and cervix.
Delayed postpartum hemorrhage, occurring up to twelve weeks after birth, is often due to retained fragments of the placenta or to infection. If your bleeding is heavier than the heaviest day of your period, you are soaking a pad every hour, or you have a fever, call your health care provider right away.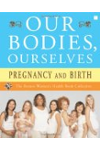 More About this Book
Our Bodies, Ourselves: Pregnancy and Birth
ALL THE INFORMATION YOU NEED TO MAKE WISE DECISIONS ABOUT YOUR PREGNANCY AND THE BIRTH OF YOUR CHILD -- FROM THE EDITORS OF THE CLASSIC "BIBLE OF WOMEN'S HEALTH" Pregnancy and birth are as ordinary...
Continue Learning about Pregnancy, Fertility and Childbirth