Pregnancy Centering is a health care redesign that changes the traditional model of the patient and health care provider in an exam room to a group setting which allows for care based on support and continuous healing relationships. This care is customized to the members of the group and their needs and values. In this model the patient is the source of the control rather than the provider. Information flows freely and knowledge is shared. Self care activities are promoted. This is a non-hierarchical model of care where preventive medicine is embraced. In this model 8-12 women with similar gestational ages meet together to learn skills and participate in facilitated discussions while developing a support network. There is no waiting in the waiting room for the provider to be available as the group starts on time and together. This care continues throughout the pregnancy and into the post partum period. The dynamic atmosphere provided helps normalize the pregnancy experience and encourages women to choose health-promoting behaviors and contributes to individual motivation to learn and change. This model of care provides increased patient and provider satisfaction while delivering quality care.
Some doctors and certified nurse-midwives follow a model for group prenatal visits called Centering Pregnancy. At each prenatal visit, the provider facilitates learning and discussion among a group of pregnant women. In addition, the provider gives individualized private care to each woman at every meeting.
Centering pregnancy groups provide a dynamic atmosphere for learning and sharing that is impossible to create in a one-to-one encounter. Hearing other women share concerns which mirror their own helps the woman to normalize the whole experience of pregnancy.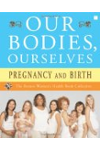 More About this Book
Our Bodies, Ourselves: Pregnancy and Birth
ALL THE INFORMATION YOU NEED TO MAKE WISE DECISIONS ABOUT YOUR PREGNANCY AND THE BIRTH OF YOUR CHILD -- FROM THE EDITORS OF THE CLASSIC "BIBLE OF WOMEN'S HEALTH" Pregnancy and birth are as ordinary...
Continue Learning about Pregnancy, Fertility and Childbirth