Some doctors and certified nurse-midwives follow a model for group prenatal visits called Centering Pregnancy. At each prenatal visit, the provider facilitates learning and discussion among a group of pregnant women. In addition, the provider gives individualized private care to each woman at every meeting.
Centering pregnancy groups provide a dynamic atmosphere for learning and sharing that is impossible to create in a one-to-one encounter. Hearing other women share concerns which mirror their own helps the woman to normalize the whole experience of pregnancy.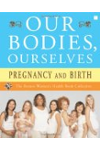 More About this Book
Our Bodies, Ourselves: Pregnancy and Birth
ALL THE INFORMATION YOU NEED TO MAKE WISE DECISIONS ABOUT YOUR PREGNANCY AND THE BIRTH OF YOUR CHILD -- FROM THE EDITORS OF THE CLASSIC "BIBLE OF WOMEN'S HEALTH" Pregnancy and birth are as ordinary...
Continue Learning about Pregnancy, Fertility and Childbirth