Assuming you're at a healthy body weight before your pregnancy, you should steadily gain 5-7 pounds in the first trimester, 18-22 in the second trimester and 12-15 in the third, for a total of 35-44 pounds gained.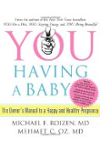 There is no magic number for how much weight you should gain during pregnancy. Every woman is different when it comes to height, weight, physical activity and metabolism. A healthy pattern of weight gain is about three to six pounds during the first three months of pregnancy and about a pound a week for the remainder of your pregnancy, but your healthcare professional will tell you the appropriate amount for you.

Women who are pregnant with twins are given special guidelines from the Institute of Medicine. Those in the normal BMI category should aim to gain 37 to 54 pounds; overweight women, 31 to 50 pounds; and obese women, 25 to 42 pounds.
Continue Learning about Pregnancy, Fertility and Childbirth