Later in pregnancy, swelling in the joints can cause pain that feels like arthritis. This especially occurs in women who develop leg swelling during the day and notice stiff or sore finger joints in the morning. Bed rest, such as lying on your side, allows the kidneys to excrete sodium and water that the hormones of pregnancy retain. Restricting salt also can help. Reduce salt intake by avoiding salt and the following foods:
Canned soups, canned fish and meats, and canned vegetables;
Luncheon meats, bacon, sausage, country ham, and salt pork;
Tomato juice, V-8, bouillon cubes;
Salted popcorn, pretzels, saltines, salted nuts, potato chips, and corn
chips.
Continue Learning about Pregnancy, Fertility and Childbirth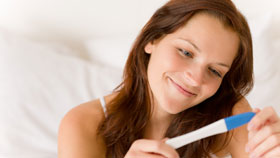 Once you become pregnant, it is important to follow your doctors recommendations for prenatal care, which can help to make sure that you and your baby stay in the best health possible. In your last trimester, it will be important ...
to understand what happens during labor and delivery, and to know your pain control options. Learn more about pregnancy and childbirth from our experts.
More