If you had a cesarean delivery, a painful episiotomy, or a low blood count, you should not drive for three to six weeks. If you are planning a long-distance trip in the first six weeks, speak with your medical provider first. In general, you can travel locally, but be aware of the possibility of overexertion and fatigue. On long road trips, get out of the car every hour or so, and walk for several minutes to help your circulation.

Continue Learning about Pregnancy, Fertility and Childbirth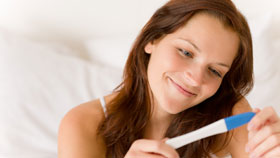 Once you become pregnant, it is important to follow your doctors recommendations for prenatal care, which can help to make sure that you and your baby stay in the best health possible. In your last trimester, it will be important ...
to understand what happens during labor and delivery, and to know your pain control options. Learn more about pregnancy and childbirth from our experts.
More