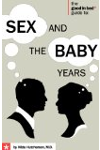 During your second trimester of pregnancy, you can expect the following changes:
Nausea, breast tenderness and fatigue tend to diminish.
You may feel more energetic.
At the same time, you will likely gain weight, which may affect self-esteem.
Libido typically rises.
Lubrication increases again.
Blood flow to the pelvis increases further and or­gasms may be more intense.
As your belly grows, some sexual positions may become more uncomfortable.