A woman is less likely to have orgasms early in a relationship. Her body needs time to adapt to the new partner, to learn to trust him or her, and to relax into the knowledge that her partner accepts and appreciates her body. At the same time, good partners revel in bringing a
woman to orgasm. I like that in a partner, both personally and conceptually; I approve of people who enjoy women's orgasms, on principle. Ideal partners recognize that a woman's orgasms might be thin on the ground early on, and happily recognize that her intense pleasure, even in the absence of orgasm, isn't a sign of failure but an encouraging sign that things are moving in the right direction. Then when the orgasm does happen, it's a delicious and joyful indication that she's moved to a new place in her connection with her partner. Hooray!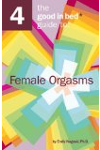 More About this Book
The Good in Bed Guide to Female Orgasms
Want to learn how to achieve 487 different kinds of orgasms?If so, you're reading the wrong guidebook. Despite what many in the media would have you believe, there's no such thing as a rainbow...
Continue Learning about Achieving Orgasm
A satisfying sex life doesn't require orgasm, but having an orgasm has its own rewards. Knowing your body and what gives you sexual pleasure can help you communicate your needs to your partner, enhancing sexual intimacy and helpin...
g you to climax. Sometimes delayed ejaculation, or premature ejaculation, may affect the male orgasm. Being open with your partner and your doctor can help solve any sexual problems. Learn more about achieving orgasm with expert advice from Sharecare.
More