You can help your trainer to help you by putting some thought into what kind of fitness goals you want to achieve. Setting and writing down goals makes it easier to achieve them.
Be able to tell your trainer the answers to the following questions:

• Specifically, what do you want to achieve by hiring him? For instance, you could say: "I want to lose five pounds in the next five weeks," "I want to work up to walking three miles," or "I want to evaluate my muscle weaknesses and focus on strengthening them."

• Exactly what do you want your body to look like? If you see a picture of the kind of legs, abdomen, or arms you would like to have, bring the picture to show him.
• How much time will you commit to achieving these goals? For instance: "I can meet with you for one hour four times a week, and one session must be on a Saturday."

• How do you like to learn? Do you like a lot of demonstration or coaching? Think also about how you are motivated. Do you respond to coaching that is more encouraging (for instance, "Great job, that was fantastic form. In the next set, let's turn it up a notch"). Or do you prefer coaching that is more critical in style (for instance, "Your form was off, focus on the next set"). This is important. If criticism does not motivate you, you will resent your trainer using this method and you will not progress as well as if he used a more encouraging style. The reverse is also true.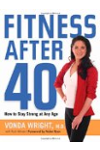 More About this Book
Fitness After 40: How to Stay Strong at Any Age
It's one of the undeniable facts of life. After we reach a certain age, our bodies change. No matter how fit we may have been at 20, we're very different people after 40. But growing older doesn't...
There are a number of things that your personal trainer needs to know about you. Most trainers use some form of Physical Activity Readiness Questionnaire (PAR-Q) to determine your general health and if you have any conditions that would require you to contact your physician prior to beginning an exercise program. You should also discuss if your work or hobbies cause you to sit for long periods or to perform repetitive motions.
You should also talk to your trainer about your specific fitness goals (lose weight, get ready for 5k/10k, etc.). Talking to your trainer about what fitness equipment you are able to access and your exercise likes/dislikes will allow the trainer to personalize your program for you. Finally, be honest with your trainer as to what kind of motivation you will need so that your expectations can be clearly met - some people only need the program designed and periodic feedback, while others want and/or need more frequent communication to maintain motivation.
The bottom line is that the more you tell your trainer, the more they will understand you and can create an exercise program that both helps you reach your fitness goals and keeps you motivated.
People hire a certified personal trainer for many different reasons. Our primary job is to educate and motivate you by providing as many extrinsic motivational factors as possible, while assisting you to establish as many intrinsic motivational reasons to continue on to achieve your long-term goals. As such, it is customary for you and the trainer to sit down and discuss some of your reasons for wanting their help, including your short & long term goals, eating habits, any fitness activities that you would favor over others, as well as any emotional drivers you're willing to discuss pertaining to your exercise outlook and long term success. Likewise, a CPT has a duty to ask you some very important questions about your health and exercise history. Not only is this due diligence by the trainer, but your answers will help set the precedence for how they will structure your program.
Assuming the CPT has provided and asked you to obtain clearance to exercise by your primary healthcare physician, they will also ask you to provide them with some additional information. Also, they will be taking some measurements to obtain the data needed in order to provide you with a personalized, properly structured, and safe exercise program. You should be ready to provide the following information to the fitness professional at the time you are asked for it.
1. A confidential health history, along with a Par-Q or ACSM health status questionnaire. A physician's clearance form with any exercise limitations if applicable. This form should include any and all medications that could have a possible effect on physiological function during exercise…As an example; If you happen to be on a beta-blocker drug to control high blood pressure, your trainer will ask you to gauge your effort level using a perceived exertion chart during aerobic exercise, as beta-blocker drugs suppress heart rate, so your CPT will not be able to measure your exertion level by manually taking your heart rate.
2. A goals questionnaire that discusses in detail what goals you want to achieve, in what time frame, etc.
3. A fitness assessment form with recorded baseline measurements from as many aspects of fitness as possible, including resting & exercising blood pressure, weight, height, girth measurements, body-fat percentage, along with any other strength, flexibility, and performance assessments that the CPT deems important to structure a safe, personalized program that will help you meet your goals, and a baseline from which to chart your progress...
When you meet with a personal trainer you should be prepared to answer questions about your medical history, current level of fitness, any history of injuries and include medications. All of this is important to prescribe appropriate exercise for you without causing any setbacks in your progam. Also, think about your goals and why you want to achieve them. Let the personal trainer know if you have any questions about the program, exercises or nutrition. Good communication will help to ensure that any health and fitness myths are busted and the personal trainer will be able to set you on the right track for success.
When hiring a personal trainer there are many things you need to tell your trainer. Really good trainers will know what to ask you so they can give you the best and safest workout possible. One thing they will want to know is health history. Do they need to know about any medical conditions they may affect your workouts. Are there any past injuries or surgeries that will limit your workouts as well. They will need to know about past workout habits, past eating habits and of course your success and failures of past programs. Lastly they will want to know your goals and what you want to get out of your workout program and how committed you are to acheiving it. The more information a trainer has on you the more they will be able to help you achieve your results.
You should tell a personal trainer about your lifestyle. Are you very active, semi-active or latent? What type of work do you do? From this information we have a clue about what types of activities we can develop for you that would keep your interest. Fitness has to be fun as well as formal otherwise you will lose interest.
You should tell your trainer about any ailments that you may have such as joint pain or fractures or previously broken bones. The trainer needs to know of any and all chorological ailments such as diabetes or cancer so that we can more fine tune your program.
Your trainer should know about any activity levels or recent health histories that you can provide. Sometimes you may need to provide a doctor's release form before you are allowed to start training.
Some of the best things to tell a trainer include:
Your short-term and long-term goals. Are you hoping to lose weight, how much, and by when? Do you want to run a marathon? If so, by when?
Previous experience with weight training
The type of training you would prefer which may include strictly cardiovascular or strength training
Any injuries you have ever had
How active you currently are
Your availability
Beyond the list above, you may tell your trainer anything, much will depend on your level of comfort with them.
A qualified personal trainer will want to discover who you the individual are, your daily tasks, and your goals. The trainer will go through a process of asking you subjective questions and objective findings.
Communicating with your personal trainer about your goals is obvious, but information that would support those goals can be less obvious. Below you will find potential topics that should be communicated to the trainer:
Past & present medical conditions

Medication and supplement usage

Past & present nutrition and exercise habits

Social support systems

What motivates you

Clear expectations you have

Time commitment

What causes you additional stress

Work environment

Exercises that you enjoy

How you feel during the exercise movements

What should you feel during move or what should you focus on
Most importantly, communicate to your trainer when you feel the direction of the program is not meeting your needs. Individuals can assume this will lead to confrontation, but instead it creates open dialogue between trainer and client. This can build a stronger relationship, and move you closer to your goals.
Great question! As a personal trainer and coach, I suggest the more candid you are the more helpful a knowledgeable and experienced trainer can assist you to reach your goals. Think of your trainer as a resource, like a trusted adviser, a doctor or an attorney. I hope this helps and have fun!
Everything you're comfortable telling them really! As a trainer there are a few things I need to know about my clients when we first start a program:
Basic info such as name, age, weight and measurements, etc.
Goal (both in physical appearance and performance)
Their WHY for that goal
Family life
Daily responsibilities
What they have done in the past to reach these goals
Eating habits
Understanding of nutrition
How much time they are truly devoted to spending on this goal
Any physical limitations
Any medications, dietary restrictions, etc.
All of this helps me determine the best program for each individual client.
The most important thing is let the trainer know of any medical conditions you have. Not telling the trainer about any medical conditions can do you more harm than good. Second, you need to tell the trainer exactly what goal you are trying to reach. Let them know what has worked for you and what hasn't worked for you. Let the trainer know what exercises, equipment and foods you like and dislike. The trainers job is to create a program that you enjoy and will stick with based on your goal.
Remember, there is trainer/ client confidentiality, just like doctors and therapist. We need to know as much as we can so we can design a total program around you. Make sure when you choose a trainer she or he is licensed, certified and insured. They have been taught about the confidential nature of trainer/ client relationship. In many cases a trainer can work with your doctor or therapist to give you the best program to reach your goals. Plus, your are not giving yourself a clean start if you do not disclose important health issues. You could be setting yourself up to make it worse later on. Trainers are not mind readers. So make sure you are as transparent as possible.
Communication is key when working with a personal trainer. The more details about yourself the better your program will be. Medical issues or injuries are at the top of the list so your personalized program can be modified while still being effective.
Your specific goals and why(s) are next. Your motivation will come from your why! I personally like to know what interests/hobbies and activities you enjoy so I can create a program you will be more likely to stick to. Bad habits are always a great idea so we can conjure up weapons of good habits to replace them and rid your life of vices and things that have been holding you back for too long!
To achieve your specific fitness desires you need to be direct and 100% upfront with all things including current physical health, all objective and subjective information. Tell them your past training methods, and diet habits. Try not to leave anything out. Sometimes there are habits that we have been doing for so long we don't realize that they are barriers to achieving our goals. Be sure to include any and all supplements you take. A good approach is to talk about your daily routine with the trainer morning, noon and night. Don't be afraid to discuss all of these things with your trainer. It's called "personal trainer", because it is personal to you. This information will help the trainer to design and develop a program tailored to you and your needs.
You should tell your personal trainer about any existing medical conditions and your past medical history. You need to tell him/her your goals and be specific about them. Mention if you like any sports and activities. You can tell your trainer why you hired him/her and explain your goals that should be SMART. Your trainer will become your friend and can help you reach your goals faster. Check their credential and specialties before choosing one.

You should tell a personal trainer what kind of strength or cardio workouts you have been successful at in the past. Remember this workout is about what you like and not just what your personal trainer tells you to do. So, be very specific on your likes and dislikes are with your personal trainer. Tell them if you have ever experience any pain in your body (knees, hips, shoulders), or had surgery that they should know about. This will help them create a better workout for you.
It is very important to give a thorough background of yourself to your personal trainer. This will help them in determining and designing a customized fitness program that fits you. You should fill out a medical history form which entails all diagnoses, medications prescribed, surgeries, injuries, weak areas of the body allergies, who your doctors are etc. Along with this, should be some background on your work, or daily activities. This is important because the personal trainer will give you exercises that will help you in these situations. Your job is your job and you spend a lot of time in the day there, so getting the right exercises for your body to help strengthen and decrease pain and injury from these activities.
You want your personal trainer to know as much as possible about you! Any type of medical issue that has happened is super important. For example, your shoulder popped out of place 2 years ago. If it's happened before, it can happen again. If you have any type of irregular heart conditions, asthma/breathing issues, smoking, drinking, drugs, all medications, any broken bones at any point in your life, head traumas, car accidents, anything and everything! Even though it may not seem like a big deal to you, your trainer will have you moving in directions you're not used to that could cause a previous injury to re-appear! Tell them as much as you can remember.
Share information with a personal trainer about: your health and health history in general; specific medical care you may be receiving; if the doctor told you to start exercise and why; medications or supplements, prescribed and chosen; dietary and lifestyle choices (examples: vegetarian diet and participating in biathalons); work and family. This is a lot of information up front, but it builds the foundation for your initial program.
After you begin training, let them know about changes in your life: family, work, health, etc. This way, the personal trainer can help your training be successful. A day putting work in the garden or flower beds may mean your next workout should be light and not strenous.
This is a lot of information, but for a personal trainer it helps them to put together the very best program to meet your goals of being healthier and stronger, because you are communicating and working together.
Having a personal trainer can be a very good experience and also a bad one. A trainer can guide you in the proper direction of attaining your goals.

A trainer can also hurt you in the process if he or she is not informed of any past or present injuries.

It is a trainer's job and duty to ask a client about his or her ailments. It is also the client's job to inform a trainer of any possible injuries even if a trainer neglects to ask this crucial question.

You must always tell a trainer about all injuries you may have even if something you feel is irrelevant.
Continue Learning about Personal Trainers and Fitness