Some of the best things to tell a trainer include:
Your short-term and long-term goals. Are you hoping to lose weight, how much, and by when? Do you want to run a marathon? If so, by when?
Previous experience with weight training
The type of training you would prefer which may include strictly cardiovascular or strength training
Any injuries you have ever had
How active you currently are
Your availability
Beyond the list above, you may tell your trainer anything, much will depend on your level of comfort with them.
You can help your trainer to help you by putting some thought into what kind of fitness goals you want to achieve. Setting and writing down goals makes it easier to achieve them.
Be able to tell your trainer the answers to the following questions:

• Specifically, what do you want to achieve by hiring him? For instance, you could say: "I want to lose five pounds in the next five weeks," "I want to work up to walking three miles," or "I want to evaluate my muscle weaknesses and focus on strengthening them."

• Exactly what do you want your body to look like? If you see a picture of the kind of legs, abdomen, or arms you would like to have, bring the picture to show him.
• How much time will you commit to achieving these goals? For instance: "I can meet with you for one hour four times a week, and one session must be on a Saturday."

• How do you like to learn? Do you like a lot of demonstration or coaching? Think also about how you are motivated. Do you respond to coaching that is more encouraging (for instance, "Great job, that was fantastic form. In the next set, let's turn it up a notch"). Or do you prefer coaching that is more critical in style (for instance, "Your form was off, focus on the next set"). This is important. If criticism does not motivate you, you will resent your trainer using this method and you will not progress as well as if he used a more encouraging style. The reverse is also true.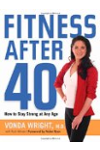 More About this Book
Fitness After 40: How to Stay Strong at Any Age
It's one of the undeniable facts of life. After we reach a certain age, our bodies change. No matter how fit we may have been at 20, we're very different people after 40. But growing older doesn't...
Continue Learning about Personal Trainers and Fitness