According to the American Heart Association, more than 76 million people in the United States were living with high blood pressure, or hypertension, in 2007. This is one out of every three US adults, so high blood pressure is a very common problem.
Blood pressure is the force of blood against your artery walls. If this force is too high, it can damage the arteries as well as the heart and contribute to heart attack, stroke, and other cardiovascular problems. High blood pressure is defined as anything above 120/80 mmHg (millimeters of mercury) as measured by a blood pressure arm cuff or other device.
It is also estimated that 8 percent of US adults have undiagnosed high blood pressure. If you haven't checked your blood pressure recently, you may wish to schedule a checkup with your physician. Managing blood pressure is one of the most important things you can do to lower your risk or slow the progress of cardiovascular disease.
About 73 million Americans age 20 and older have hypertension and nearly half are women, according to the American Heart Association. High blood pressure killed nearly 54,707 Americans in 2004 and was listed as a primary or contributing factor in 300,000 deaths. Hypertension can occur in both children and adults, but it is more common in adults, particularly African Americans and the elderly.
Don't be surprised if you get your blood pressure (the amount of force your blood is putting on the arteries as it flows through them) checked and it's too high. Eighty-nine percent of all Americans have blood pressure higher than the ideal for preventing aging—115/76 mm Hg (millimeters of mercury). About a quarter of all adult Americans (50 million) have blood pressure above the American Heart Association's danger zone of 140/90. Even the old standard that many consider ideal—120 to 130 mm Hg for systolic and 80 to 85 for diastolic—is too high for optimal health (and youth).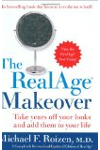 Continue Learning about Hypertension