Sleep may have a greater influence on your ability to enjoy your day than household income and even marital status. One study found that an extra hour of sleep had more of an impact on how a group of women felt throughout the day than earning more money per year.

Cutting-edge science shows how critical sleep is to our ability to stay focused, able to learn new things and remember old things, lose fat and keep excess weight off, and generally lower the risks for a slew of health problems such as heart disease, obesity, and cerebrovascular disease. It also recharges us (duh!).

Today sleep medicine is a highly respected field of study that continues to provide alarming insights into the power of sleep in the support of health and energy. Sleep can dictate whether you can fight off infections, and how well you can cope with stress.

Sleep is not a state of inactivity. It's not as if our bodies press pause for a few hours during the dark. Much to the contrary, a lot goes on during sleep at the cellular level to ensure that we can live another day. Clearly, a night of poor sleep or no sleep at all won't kill you, but prolonged sleep deprivation can have unintended consequences, not to mention putting you at high risk for an accident.

There's something to be said for looking refreshed and feeling smarter upon waking from a good night's sleep or a nap. Seemingly magical events happen when you're sleeping that just cannot happen during wakeful hours, and which help keep you stay energized and quick-witted. Proof of sleep's profound role in our lives also has been demonstrated over and over again in laboratory and clinical studies. It keeps you sharp, creative, and able to process information in an instant.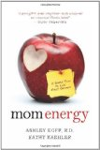 More About this Book
Mom Energy: A Simple Plan to Live Fully Charged
       From celebrated dietitian Ashley Koff and fitness trainer to the stars Kathy Kaehler comes Mom Energy, an exciting new way for moms to tap into their own natural and renewable sources of...
Continue Learning about Healthy Sleeping