The ability to use oxygen is commonly referred to as "oxygen uptake," or sometimes as "oxygen transport" or "aerobic power." Most often, oxygen uptake is measured as "maximal oxygen uptake" (VO2max), the maximum amount of oxygen an individual's body can use during exertion. Measures of VO2max provide a good indication of how well the heart, lungs, blood vessels, and muscles are working together and how healthy they are. It's generally recognized that VO2max declines by about one percent per year from a peak at about age 20 or slightly younger to half that at age 80.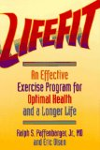 Oxygen uptake is the transportation and utilization of oxygen in a person during exercise. A common physiological measurement taken is VO2 Max, which measures the maximum capacity at which the individual's body can transport and utilize oxygen. This measurement indicates one's personal fitness level. The higher the VO2 Max the better you can transport and use oxygen, which gives you more energy during exercise.
Oxygen uptake is VO2. It's the oxygen consumption or uptake per kilogram of body weight. It's the most relevant measure of the cardiorespiratory system. It's the highest rate at which oxygen can be consumed is called VO2Max, distributed and used by the body during exercise. It is determined relative to body weight as millimeters of oxygen per kilogram of body weight.
Continue Learning about Evaluating & Measuring Fitness