Although research has failed to yield a good medication for Alzheimer's disease, it has created multiple lines of treatment which offer, if anything, modest improvement. The U.S. Food and Drug Administration (FDA) has approved medications from two classes (cholinesterase inhibitors and memantine); alternative treatments include vitamin and food supplements. While many of the available medicines and alternative treatments can be quite expensive, increasing socialization, exercise and just listening to music have also shown improvement in brain function.
Some doctors find that combining different Alzheimer's drugs increases the benefits in some patients. For example, memantine is often prescribed together with donepezil (Aricept)—another treatment for Alzheimer's disease that works on another pathway in the brain—and studies have shown that Namenda may be more effective when combined with another Alzheimer's drug called a cholinesterase inhibitor.
However, when drugs are combined, the interactions can be unpredictable. For example, combining memantine with another NMDA antagonist such as amantadine or dextromethorphan (found in many over-the-counter cough suppressants) could cause a negative reaction because they work similarly.
Any time you take prescriptions from multiple doctors it is a good idea to let each doctor know all the medications, supplements and over-the-counter remedies you are taking so you can be monitored carefully for interactions. Filling all your prescriptions at the same pharmacy can allow the pharmacist to detect potentially dangerous combinations.
Memantine can be taken with other standard medications for Alzheimer's, such as Aricept, and I would strongly recommend it for two reasons. First, a few recent clinical studies have found evidence that both drugs taken together produce more cognitive benefits than either memantine or Aricept alone. Second, most standard Alzheimer drugs produces diarrhea as a side effect of their treatment. Memantine often can reduce the severity of this side effect, which is a clear benefit to the hospital staff. Finally, memantine does not interfere with the action of Aricept in the brain (disclosure: I published this study).
There are now two classes of medication available for the treatment of Alzheimer's disease. They are categorized as cholinesterase inhibitors and NMDA-inhibitors, respectively. Included in the first class are the drugs Aricept, Exelon and Razadyne, and in the second class, there is only one drug available, Namenda. The two classes of drugs work by entirely different mechanisms, which means that when they are used together, they can produce a greater benefit than when either category of drug is given alone. In fact, the combination of Aricept and Namenda was shown in one study to produce greater benefit in terms of memory function, self-care capacity and disruptive behaviors than could be obtained with Aricept alone. The FDA has approved the use of Aricept, Exelon and Razadyne for mild and moderate Alzheimer's disease, while Namenda has been approved for moderate and severe Alzheimer's disease. Aricept has also been approved for continued use into severe stages of Alzheimer's disease.
Intense research efforts are currently under way to test several new medications, with yet differing mechanisms of action. These newer medications may be able to bring about additional benefits and further slow the progression of the disease. Accordingly, it will be important to watch for announcements of such additional breakthroughs.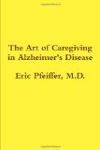 More About this Book
The Art of Caregiving in Alzheimer's Disease
This is an A to Z Guide to the caregiving experience in Alzheimer's disease. It is easy to read, easy to follow. It is authorative, based on thirty years of experieReconce in caring for Alzheimer's...
Although no cure for Alzheimer's disease (AD) exists, a number of medications may help delay symptom progression. Medication also may temporarily help boost cognitive function and improve a person's ability to perform daily activities. The two main classes of AD medications are cholinesterase inhibitors and N-methyl-D-aspartate (NMDA) receptor antagonists.
Cholinesterase inhibitors help prevent the breakdown of acetylcholine, a neurotransmitter involved in memory and thinking. These medications are generally prescribed for mild to moderate cases of AD. Examples include donepezil, galantamine, and rivastigmine. Side effects associated with this class of medication may include upset stomach, nausea, vomiting, diarrhea, headache, dizziness, change in appetite, sleep disturbance, muscle weakness, and weight loss. These medications also may increase the risk of stomach irritation and ulcers.
N-methyl-D-aspartate (NMDA) receptor antagonists help regulate glutamate, a neurotransmitter necessary for learning and memory. Currently, the only Food and Drug Administration (FDA)-approved NMDA for treating AD is called memantine, which is used to treat moderate to severe cases of the disease. Side effects of this medication may include headache, dizziness, vomiting, cough, back pain, confusion, constipation, and sleepiness.
The Food and Drug Administration (FDA) has approved five drugs for the treatment of Alzheimer's disease: donepezil (Aricept), rivastigmine (Exelon), galantamine (Razadyne, formerly Reminyl), tacrine (Cognex), and memantine (Namenda). All these prescription medications work by affecting particular chemicals in the brain and offer modest improvements in memory and cognitive function in some people with Alzheimer's.
Donepezil, rivastigmine, galantamine, and tacrine belong to a class of drugs called cholinesterase inhibitors. They raise the levels of acetylcholine in the brain, because a deficiency in this neurotransmitter contributes to the memory problems of Alzheimer's disease. They seem to work by blocking an enzyme that destroys acetylcholine, which presumably makes more acetylcholine available for transmitting impulses from one brain cell to another. The drugs are effective for people with mild to moderate Alzheimer's disease. Tacrine is rarely used because it's been associated with severe liver problems.
Only about 30% to 50% of the people who take this class of drugs show benefits. These medications may temporarily stabilize or improve memory problems and other cognitive symptoms. For example, one study found that taking donepezil for at least nine months postponed a patient's need to move to a nursing home by about 21 months.
Memantine has a different mode of action. It is an NMDA (N-methyl-D-aspartate) antagonist; it works by blocking glutamate, another neurotransmitter, from attaching to NMDA receptors in the brain. This is beneficial because glutamate is an excitotoxin, a neurotransmitter that usually activates neurons, but in excessive amounts can destroy them. Research suggests that excitotoxins may cause some of the neuron degeneration that occurs with Alzheimer's disease.
Memantine is FDA-approved to treat symptoms of moderate to severe Alzheimer's disease based on research showing that people in this stage of Alzheimer's who were given memantine scored higher on tests of cognitive functions and daily functioning than did those given a placebo. Additionally, a study by Harvard researchers found that people with Alzheimer's who took memantine plus a cholinesterase inhibitor (either donepezil, galantamine, or rivastigmine) had a slower rate of cognitive decline than people who took a cholinesterase inhibitor alone.
While the complexity of Alzheimer's disease makes it difficult to delay, prevent, cure or reverse the disease, treatments and medications can help people maintain their mental function and temporarily stabilize or slow progression of the disease. Several drugs are approved by the U.S. Food and Drug Administration (FDA) to treat Alzheimer's. Donepezil (Aricept), rivastigimine (Exelon) and galantamine (Razadyne) are used to treat mild to moderate Alzheimer's. They are known as cholinesterase inhibitors and work by increasing the amount of the neurotransmitter acetylcholine in the brain. Acetylcholine helps brain cells communicate.
Donepezil, along with memantine (Namenda), may be used to treat moderate to severe Alzheimer's. Memantine works on a different neurotransmitter called glutamate. Because all of the drugs work in similar ways, switching from one to another usually doesn't provide significantly different results, but some people may respond better to one drug than another.
Continue Learning about Alzheimer's Disease Treatment