Sometimes an attention deficit disorder (ADD) adult's hyperactivity is driven by what I call a "class-clown complex." Many ADD adults are recovering class clowns. Some ADD adults are still class clowns. If this is you, you can be funny, entertaining, and the life of the party. The problem is, if you have gotten used to the laughs, you may have come to need them. Perhaps the laughs absorb your hyperactivity in some way, dispersing your frenetic energy. Or the attention may be stimulation you crave. This applies to any form of attention. Getting attention from others may drive you to act so as to continue to receive this attention.

Your interpersonal intuition may also be telling you that other people expect you to be "larger than life." You may take your antics up a notch to live up to your reputation as "the spaz" or just plain fun to be around. Even if the attention you receive from others is negative, it can goad you to fulfill their expectations. Any attention you get for your hyperactivity may fuel you to take it to the next level.

One problem with trying to be larger than life is that, even though hyperactivity is an excess of energy, your efforts to entertain others may leave you exhausted and worn-out. Constantly trying so hard can sap you dry. A need to always be performing can paradoxically both make you the life of the party and give you an imposter complex because it leaves you so depleted inside.

I advise ADD adults who are stuck in this trap to give themselves permission to not try so hard. You don't have to live up to another's idea that you are fun to be around. Just be who you are. If you are an ADD adult, you probably think and act differently enough from others that you just don't need to try to get attention. Being with an ADD adult who feels the need to perform for others can be like going to a movie screened in high definition on the side of the Grand Canyon, with a full moon and a spectacular meteor shower raining down from above, and the band U2 playing a concert in the background.

The point is that these distractions are exhausting for others as well as the ADD adult. You have much to offer without even trying -- you don't need to add anything extra. Trying too hard may be a holdover from your school days, when such antics were applauded. It can also be a holdover from efforts to compensate for not fitting in at school. If this is true for you, it's time to take a developmental leap: let yourself take a break.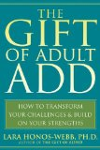 Continue Learning about ADHD