The length of time that children and teenagers take medication for attention deficit hyperactivity disorder (ADHD) can vary, but the medications can be stopped at any time. ADHD medications are like crutches for a broken ankle: The medications are only helpful when the child is actively taking them. As soon as the medication is stopped, all benefits disappear.

Your child's doctor will discuss all the benefits and risks of the medications with you and help you determine the best dose and timing for the medication each day. Based on your feedback, and feedback from your child's teachers, the doctor may adjust the dose of the drug in the first few months of treatment. As long as the medication is working and there are no unpleasant side effects, you may want your child to continue taking the medication for quite some time.

The American Academy of Child and Adolescent Psychiatry says that some children outgrow their ADHD symptoms over time. For these people, medications may be stopped as symptoms start to disappear. Always check with your doctor before discontinuing your child's medication. Know that more than half of all young people with ADHD will continue to struggle with the disorder into adulthood. For this reason, they may continue to take ADHD medications for many years.
Continue Learning about ADHD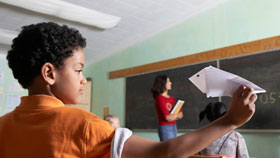 Whether you refer to it as Attention Deficit Disorder (ADD) or Attention Deficit Hyperactivity Disorder (ADHD)it's the same disorder. Impulsive behavior, hyperactivity, difficulty concentrating are symptomsand children and adults ...
can have them. Can't sit still, can't finish projects, always forgetfulthese are also part of the pattern. With medications and therapy, it's possible to control these impulses and live a more normal, productive life.
More