When a parent does not pay careful attention to an attention deficit hyperactivity disorder (ADHD) child's inner process, it is easy to miss his creativity in everyday life. While the teacher complains that he is spacing out during her presentation on the structure of our government, your child may be generating possible solutions for eliminating wasteful governmental spending. As you can see, if a child isn't doing what he's supposed to be doing, we commonly think he is misbehaving. In fact, he may be exploring and expressing his own unique gifts that do not match up with society's tight schedules and plans for him.

In fact, what adults often think of as goofing off can be one of the most important activities for any child, but particularly for a creative child. If your child is diagnosed with ADHD, you may recognize that he does not have the same attention span and sustained focusing abilities of other children, but you must also acknowledge his superior creativity that, as a parent, you are entrusted with nourishing and nurturing. But you cannot nurture his creativity by getting him to conform to the demands of traditional ideas of achievement. You nurture his creativity by making allowances for his differences and unstructuring his life accordingly.

Music coach and psychologist Dr. Lane Arye has written in his book Unintentional Music: Releasing Your Deepest Creativity about how goofing off can feed one's deepest creativity. As an example, he describes a music lesson with a classical guitarist in which the teacher asked a student to amplify a particular hand gesture that was irrelevant to the music being played. The student amplified his gesture until he was making wild body movements and screaming with delight. The teacher writes that, after the apparent derailment of the music lesson, "I asked him whether he could express this ecstatic wildness in his music. Franz grabbed his guitar and played the same piece as before. But this time he played it with incredible energy… He said, with an irrepressible smile, that he had never thought it was allowable to play like that." This interaction can be viewed as a model for parents interacting with their children diagnosed with ADHD. You can become a detective and search for ways in which your child's apparent "symptoms" represent creativity or could be channeled to enhance your child's creative expression.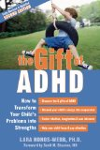 Continue Learning about ADHD