Calcium, magnesium, potassium, and phosphorous are important nutrients that ensure muscles contract as they should. This is especially true for the heart.

Vitamin C aids in the formation of collagen and elastin, which are important for the elasticity and flexibility of muscles. In addition, Vitamin C is a powerful antioxidant that repairs the micro-tears our muscles sustain during hard exercise sessions.

Vitamin E is another proven muscle-rebuilding antioxidant and can diminish delayed onset muscle soreness.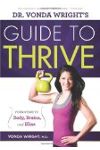 Continue Learning about Vitamins