Currently, there are no vitamins that protect your skin from sun damage. The most effective way to protect your skin is to limit your sun exposure by using sunscreen with SPF 15 or higher, applying frequently and wearing protective clothing.
Vitamin E might be called the great defender, since it protects cell walls and regulates collagen breakdown. E works best with helper antioxidants like C. Small studies show that swallowing C and E supplements significantly increases the skin's ability to stand up to the sun's ultraviolet (UV) rays. Rubbing on products that contain a combo of C and E also helps prevent damage when used before sun exposure. Since sun is the number one skin ager, this is good to know.
Continue Learning about Vitamins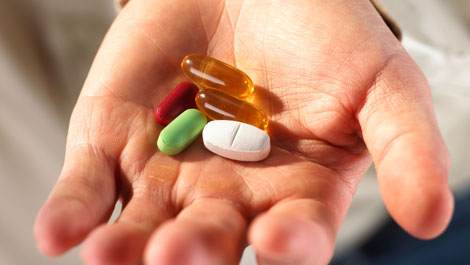 In the United States, the Food and Drug Administration (FDA) regulates vitamin supplements and provides recommended daily amount information. The FDA says that we should pay attention when considering vitamin supplements, because ...
frequently many different vitamins and minerals are combined into one product.
More